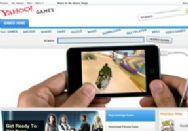 Apple has a history of producing innovative web-based advertisements for the 'Get a Mac' series and now they've published a clever new web banner on Yahoo Games, advertising the gaming capabilities of the iPod touch.
In the thirty-second video—which is basically the same as the existing iPod touch ad—the entire top half of the webpage starts dancing along to the movements of the iPod touch. I'm assuming that getting to do all that required a bit of leeway on Yahoo's part, but when you have $25 billion sitting in a bank, I guess you can buy pretty much all the leeway you want.
As of this writing, the video is available for your viewing pleasure on the Yahoo Games homepage, but if you've missed it, check out the embedded video below to get a sense of what it looked like. Seriously, only a company like Apple can make advertisements that people actually pay to watch—hey, time is money, ain't it?
[Via Advertising Age]