OpenZone has announced PlusOffice Mac, a productivity software package for the Mac expected to be released in January, 2009 for Intel-based Macs.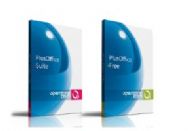 PlusOffice Mac is open-source software, and it shares code with OpenOffice.org. It features the same applications included with OpenOffice.org — Writer, Calc, Impress, Draw, Base and Math. Additionally, PlusOffice Mac's developers have included full support for Open Document Format (ODF) version 1.2 and the ability to open documents in Microsoft Office Open XML. PlusOffice Mac will be available with tech support and upgrades, as well.
Note: When you purchase something after clicking links in our articles, we may earn a small commission. Read our affiliate link policy for more details.