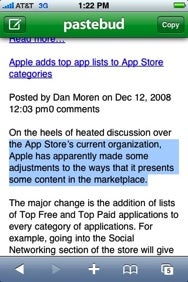 "Copy and paste." The words are shouted like a slogan whnever anybody starts discussing the limitations of the iPhone's operating system. There have been several attempts by third parties to bring the functionality to the iPhone platform, such as the MagicPad app and OpenClip framework, but they've all been limited in what they can accomplish without the backing of Apple.
To that list, add Pastebud, a new Web-based attempt to beat iPhone users' copy-and-paste blues. It uses a pair of JavaScript bookmarklets to let you copy and paste information between the iPhone's Mail application and Safari. After you set up the bookmarklets, which you can do from Safari on the iPhone or by bookmarking them on your computer and syncing them to the iPhone, hitting the Copy bookmarklet while in the web browser will take you to a JavaScript "clipboard" with the text of the page that you were viewing. Dragging your finger across the text selects what part you want to copy; you can either then create an email with that text, or you can hit the copy button to store it for pasting. When you want to paste the text into another web page (one with an input field of some sort), you invoke the Paste bookmarklet and then tap the field you want to paste into.
Does it work? For the most part, yes (the clipboard app crashed Safari on me once). But it's definitely a little kludgy: selecting your text can be picky, for example, making it clear why Apple chose not to simply go that route for copy and paste. Even more annoying, if you want to just copy and paste a URL, the process is pretty convoluted (unless the URL itself is listed in the body of the page you're copying). And, of course, it's only supported in Safari and Mail. While that might account for a lot of copy and pasting needs, I'm not convinced people are going to give up their native iPhone applications just for copy and paste support.
The Pastebud team says that they plan to add more features once the initial version is up and running smoothly, including support for SSL to keep pasteboard contents secure, and customization. While the service is free, every time you paste text, you'll be bugged to pay $5 for the upgraded version (which, at the moment, just omits the Pastebud information appended to whatever your paste).
More than anything, though, I think the interest in Pastebud is a signal to Apple that fully functional copy-and-paste support is still something that users are looking for in the iPhone operating system.