At a Glance
Expert's Rating
Our Verdict
Zegari's Minimalist is a briefcase-style laptop bag meant to appeal to luxury bag lovers. Luxury usually translates to "high price"—in this case, a not-unreasonable-for-a-high-end-bag $285—but with the Minimalist, it also means a carefully considered, functional design.
This Minimalist is impeccably crafted from leather and a mysterious "innovative material" that looks vaguely like metallic leather. The bag is 14.5 inches wide, 12 inches tall, and 3.75 inches thick, and it incorporates only the most essential features and details. The bag's petite size limits how much you can cram into it, but I consider that to be a clever back-saving feature more than a shortcoming.
Zegari has included a refreshingly good amount of laptop protection for a corporate-style case. The walls are rigid and the interior is heavily padded on all sides. While the bag fits the 15-inch MacBook Pro like a glove, a 13-inch MacBook or MacBook Air will also stay snugly in place, thanks to smart use of stretchy panels on the sides of the laptop compartment. As a bonus, one side of the bag is made of a breathable mesh material so a warm laptop can cool off in transit.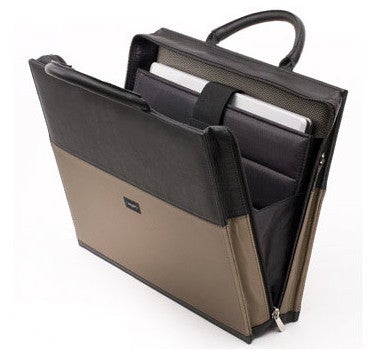 Inside the Minimalist is a clean collection of compartments. There are multiple pouches for PDAs and cell phones, as well as penholders, a detachable keychain, and a clear ID pocket. There's also a zippered, shallow section and a roomy document holder that can accommodate a decent amount of reading material. The bag unzips almost all the way around, letting you find exactly what you're looking for without rooting around blindly. The outside of the bag also has a flat, zippered pocket for quick access to any odd-ends.
You have multiple options for carrying the Minimalist: you can clutch the springy, leather handles, or you can use the removable shoulder strap. The shoulder strap is adjustable and made from quality leather, but it doesn't provide much in the way of padding.
Perhaps the only controversial element of the Zegari bag is its style. Slick and simple without being boring, the bag is definitely eye catching. However, I can't get over feeling that the angular design and muted brown/black color combo is a bit dated—better suited for a high-powered businesswoman circa 1987 than a modern corporate or casual environment. Still, I'm sure some people will like the appearance, and a benefit of this design is that it's simple enough to blend with any contemporary look.
Love or hate the design, The Minimalist is an excellent bag. As long as you leave the shoulder pads at home, you'll be just fine.
When you purchase through links in our articles, we may earn a small commission. This doesn't affect our editorial independence.