Amju Games has released Amju Pet Zoo for the Macintosh. It's available for free download from the Web site.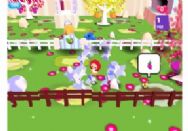 In Amju Pet Zoo, you find eggs and hatch them to make your own zoo of little animals. You can feed them and watch them grow, and when they grow up, they make more eggs, which you can also care for.
Dinosaurs introduce some challenge into the game — your job is either to protect your pets or feed them to the carnivores, depending on how you want to play. A Pet Zoo Shop lets you buy and sell material, and you can collect hearts in the game to unlock new areas and pick up new objects.
Amju Pet Zoo is a Universal binary, though the developer did not specify system requirements beyond that.