Everyone understands what an owner's manual is for, right? It's nothing more than a guide for making the most of a product, whether it's an appliance or a car or a hand-held device that lets you talk to your friends, check your e-mail and surf the Web. Wise people read the manual.
America needs an operating manual as much as any mundane piece of hardware, and arguably more so. It's a big country with a rich history and a unique place in the world. Preserving America and improving it—isn't that what our laws and elections are about? Abraham Lincoln made the case, more or less, in an 1838 speech to the Young Men's Lyceum of Springfield, Illinois. "Let reverence for the laws," Lincoln said, "be breathed by every American mother, to the lisping babe, that prattles on her lap—let it be taught in schools, in seminaries, and in colleges;—let it be written in Primmers (sic), spelling books, and in Almanacs;—let it be preached from the pulpit, proclaimed in legislative halls, and enforced in courts of justice."
In short, in order to preserve and improve what began 232 years ago, we must constantly remind ourselves what made America so blessedly American. We need to look at the manual from time to time.
The Manual for the United States
Manual for the United States of America, alas, does not live up to the promise of its name. The interface is just fine—nothing beautiful, but perfectly user-friendly. (A quibble: Although the type is readable, there is no way to adjust the font or type size.) The Manual's brief contents are listed clearly and chronologically. The app includes some key historical documents; a detailed list of U.S. states with coats of arms, maps and current U.S representatives; and a useful list of U.S. presidents that offers such unexpected details as nicknames and published works.
Bagwell covers America's foundations reasonably well. The user will be pleased to find not only the texts of the Declaration of Independence and the Constitution, but also the complete Federalist Papers and George Washington's Farewell Address. He chooses two epoch-defining documents from the 19th century—the Emancipation Proclamation and the Gettysburg Address.
But a funny thing happens on the way to the 21st century. Here we find texts of the United Nations Charter, the Nuclear Test Ban Treaty, the censure of Senator Joseph McCarthy and the 1969 Indian Bill of Rights. Only the 2001 Patriot Act represents the post-9/11 era.
Stop and think about that. Suppose you are a newcomer to the United States. Better yet, imagine you are a time-traveler arriving from 500 years in the future, or a refugee from one of those burning attack ships off the shoulder of Orion. If your only source for understanding America were this Manual, you would be rightly and thoroughly confused. There is a clear line from the Gettysburg Address to the Declaration. But the line from the Patriot Act and the U.N. Charter to America's founding is much less obvious. The gaps are huge.
And there are other questions. Who was this McCarthy character and why does his censure merit notice in our Manual? The accompanying note raises more questions than it answers. What to make of the cryptic legalisms of Title VII of the Patriot Act, which amends something called Omnibus Crime Control and Safe Streets Act of 1968? The Manual offers us no clue. Why is the Nuclear Test Ban Treaty more important than, say, the North Atlantic Treaty Organization or the North American Free Trade Agreement? Only Clint Bagwell knows for sure.
Largely devoid of context, these documents—however important they may be—make little or no sense. Even with the brief notes that accompany each section, it's difficult to know why these particular records warrant inclusion over other vital texts.
Nothing prevents Bagwell from expanding his manual in future updates. And he has a real wealth of material to choose from. Along with Lincoln's Lyceum Address, I would suggest including FDR's Four Freedoms speech, Eisenhower's farewell address, the texts of the 1964 Civil Rights and 1965 Voting Rights Acts, Ronald Reagan's Berlin Wall address, and George W. Bush's speech to Congress immediately after the 9/11 attacks for starters.
America (Deluxe and Lite)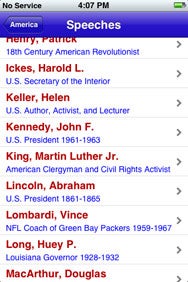 But as it stands now, the Manual of the United States pales in comparison to Swampbits' America Deluxe. This is one of the few apps I've found with a mission statement. In the note to users, developer Paul Dardeau explains, "this application was created with the primary purpose of sharing the greatness of America."
And there is much to share. Here, you will find the Declaration, Constitution and Federalist, and plenty more—two centuries of key documents and vital speeches from Washington, Franklin, Lincoln, Kennedy and Martin Luther King, as well as Helen Keller, Vince Lombardi, and Lou Gehrig. The app also features historical photos and geographical information about U.S. states, wars, memorials, discoveries, events, natural wonders and important prehistoric sites. Many of America's entries include Web links that open in the app, so you don't lose your place or need to re-launch the app.
America's interface is clean and easy to read, although, once again, there is no way for users to customize the type or font size. I wish, too, there was some way for users to add notes.
Swampbits also sells an app called America Lite. But the difference between the lite and deluxe versions is the absence of detailed presidential biographies. Also, America Deluxe includes more images, has a slideshow feature, and includes audio of the "Star Spangled Banner" and "Stars and Stripes Forever." Lite does not. Spend the extra $2 for the complete version.
That said, I have one substantive complaint about America Deluxe. Although the developer has done a great job of presenting "just the facts," he cannot seem to restrain himself when it comes George W. Bush. No other president receives the developer's opprobrium. Now, I'm not a Bush partisan. And I understand the animus. Really, I do. But the gratuitous editorial comment in the Bush entry is such a departure from the tone and substance of the app that it creates a needless distraction. I hope Dardeau takes a step back and rethinks his approach in a future update.
Declaration and Constitution for the iPhone and iPod touch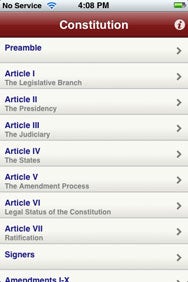 But I do not mean to be too hard on Dardeau—or Bagwell for that matter. Bagwell's other civics apps—Constitution for the iPhone and iPod touch and Declaration for the iPhone and iPod touch—are well made and provide a genuine public service. And they're free.
Both applications are pleasing to the eye, although it would be nice to have an option of increasing the text size. The Constitution is broken up by article and amendment, which makes for easy reading. Constitution also includes a section for the signers and for proposed amendments, but omits the images of the original document that are included in Manual for the United States. The Declaration app includes images of the original and engraved copies of America's founding text, which users can view in detail.
As with the Manual of the United States, the Constitution and Declaration also have a "notes" tab, which includes timelines, short explanations and subsequent revisions. My two suggestions here would be to include more biographical information about the Declaration's signers and Constitution's framers, and to let users add notes of their own.
Bottom line: The Manual of the United States needs a rewrite, but the Declaration and Constitution never go out of style, even in our go-go digital age. Users who really want to put patriotism in the palm of their hand cannot go wrong with America Deluxe.
The applications are compatible with any iPhone or iPod touch running the iPhone 2.x software update.
[When the big one hits, Ben Boychuk will be buried under a ton of books on the American Founding in Rialto, Calif.]
Updated at 4:50 p.m. PT to expand on the differences between America Deluxe and its lite version.
Note: When you purchase something after clicking links in our articles, we may earn a small commission. Read our affiliate link policy for more details.