It's hard to imagine, with all the great iPhone apps for sale on the App Store, that the top paid app (App Store link) would involve meandering Japanese carp, floating lily pads, and ambient noise. But Koi Pond has indeed taken the app world by storm. Look no further than its slot at the head of the list of the top-selling paid iPhone apps of 2008. (For more on the genesis of this unlikely chart-topper, read Macworld's interview with Koi Pond's creators.)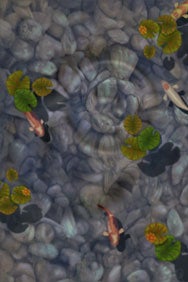 Why is The Blimp Pilots' creation so popular? Perhaps it's because there's too much stress in our lives, and Koi Pond does its best to combat the headaches by combining the soothing sounds of nature with the peaceful tranquility of fish.
The app offers a realistic depiction of a pond with koi swimming around, casting shadows and changing course as real fish would. But it's also interactive. Tapping the screen causes ripples in the water—complete with splash sound effects—that scatter fish and send lily pads shimmering (tap with headphones on and you'll even hear the sound come out of the correct ear depending on where you tap). Tap the screen and leave your finger in place, and the fish will approach your finger as if it were a cloud of phytoplankton (the iPhone vibrates when the fish "nibble" on you).
Read more…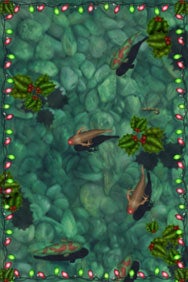 To that you can add soothing, accurate background sounds for birds, water, frogs, and bugs (layer as many as you want), plus the app offers you some control over the color scheme, brightness, and number of fish and lily pads. Shaking your iPhone even "feeds" the fish, depositing tasty morsels in the water that the koi eat (with an accompanying splash). The latest version also adds a Holiday mode that's available during November and December (of this year and future years as well). Activating it—via a button in the upper-left corner of the screen—adds holiday lights around the edges, seasonal koi, holly leaves instead of lily pads, and a sleigh bell sound effect that accompanies the shaking (feeding) motion.
Many iPhone users have already given Koi Pond a try. If you're not one of them, and if you're looking for a distraction from the day, your $1 spent on Koi Pond won't be wasted. It's relaxing, somewhat addictive, and most of all, beautifully designed.
Koi Pond is compatible with any iPhone or iPod touch running the iPhone 2.x software update.
[Senior news editor Jonathan Seff has used Koi Pond to relax during stressful afternoons at work on several occasions.]