When you by a new CD and slip it into your computer's optical drive to rip it, iTunes automatically queries an Internet-based database to try and guess the album's name, artist, and the names of its tracks. (If it doesn't, you may need to turn this option on in iTunes' General preferences.) iTunes uses the Gracenote CD database, which stocks information on more than 6 million CDs and more than 80 million tracks. In most cases, you'll get track information for your CDs, but in some cases, the query to Gracenote comes up blank.
Gracenote is good at finding track info for the majority of mainstream releases and popular artists, from Madonna and Britney Spears to the Rolling Stones or the Beatles, and it's generally reliable for indie bands as well. As I rip my CDs, I find that even some quite obscure music gets identified correctly. But a fair number of albums slip through the cracks, notably classical music on small labels.
You can enter track information manually if iTunes doesn't provide it to you: select the first track, press Command-I, and enter the track name. Press Command-N to go to the next track, then, when you get to the end, select all the tracks, press Command-I and enter the album name, artist, and genre.
Read more…
In some cases, you can use a shortcut to copy tag information from existing tracks, even if you don't own them. The iTunes Store has a lot of music, and you may find the album you're ripping there. (The content of the iTunes Store is not related to the information in the Gracenote CDDB.) If so, you can use it to tag your disc.
Search for your album on the iTunes Store. If you find it, select its tracks on its Store page, then drag them to a playlist. (I keep a playlist named "Temp" in iTunes for this exact purpose.) The playlist will contain 30-second previews of the tracks you dragged in, yet each track will contain all the tags that are applied to the full music files.
Next, get AppleScript wizard Doug Adams' Copy Tag Info Tracks To Tracks applet and follow the instructions to install it. With your Temp playlist selected, run the script; it will first ask you if the tracks are in the correct order, then it will display a dialog box letting you choose which tags to copy (command-click to select multiple tags).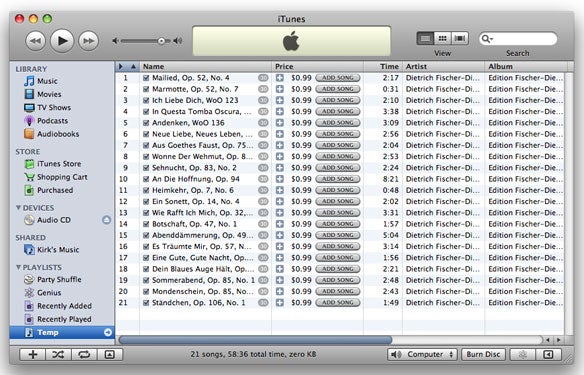 A dialog box will then ask you to select the tracks to which you want to copy the tags. Switch to iTunes, go to your disc, select all its tracks (Command-A), then go back to the Copy Tag Info Tracks To Tracks application. Click on OK to start the copy process. You'll see iTunes replace the information for your CD as the applet adds the tags. Now you can rip your disc, and your music will be correctly tagged.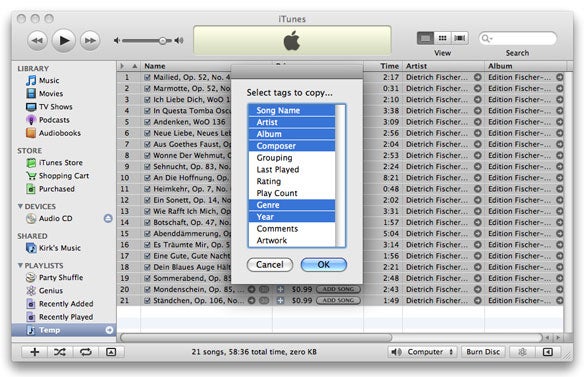 You can use the script for other purposes too. For example, if the tags that Gracenote provides to iTunes are misspelled or don't display accented characters correctly (a problem with classical music, but also music from non-western countries), and you find the music on the iTunes Store, you can use it to replace the tags on tracks you've already ripped. And, if you have several versions of a classical work, with different tags, you can normalize them: fix the tags for one version, then copy them to the others you have. You can also use this method for music you've downloaded from other sources, to add or tidy up tags.
While the script won't solve all of Gracenote's lacunae, I find that it often makes ripping classical music a bit easier. As more music appears in the iTunes Store, that content can turn into a reliable database that you can use to make sure your music is tagged correctly.