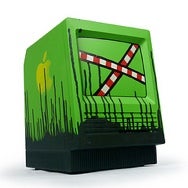 If you're anything like me, you're probably a horrible packrat and the worst of your collecting habits is your collection of Macs. How can you let go of any of those machines when each of them was so important to you? I still harbor feelings for that horrible PowerMac MDD that filled my domicile with wind-tunnel level fan noise.
One great idea that may help you let go is donating for an artist to turn into a piece of art. The example Mac Classic is pretty cool looking. The only problem is that we may not get to see all the results until late next year. In the meantime, he's looking for a variety of Macs:
iMac (the one with the half-sphered foot)
eMac
Cube (yes, iKnow, they are hard to come by, but hey, there might be the odd chance … and if it's just an empty case …)
Macintosh Portable (they claim this was the first portable Mac, but it was so fckn heavy, no way anyone took anywhere)
anything made after 2000 (there aren't many dead ones to collect around yet)
Classic, SE & Plus (I already have a few dozen of them, but I need more …)
any type of Apple //, the legendary Lisa … ok, I'm dreaming now
anything odd with an Apple logo on it (instruction VHS tapes, old PR material, shop displays, … you name it)
Some may be hard to come by and some may seem too valuable to give away (the Cube), but perhaps you have an old eMac you don't use and you want to give away for a good reason. Here's your chance.