With today's powerful computers, calculators, and smartphones with built-in calculator software, it's no wonder that people struggle with basic math skills. If you feel like you need a math refresher, download Brain Tuner.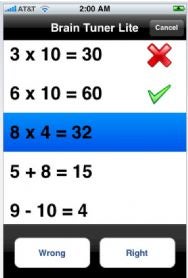 Brain Tuner is based on the concept of flash cards that you may have used in elementary school. The game is simple: You examine a list of mathematical equations, and mark as fast as you can whether the provided answer is right or wrong. For example, you'll see -4 + 8 = 4. As soon as you recognize that that equation is correct, tap the Right button, and go to the next equation.
The object is to combine speed and accuracy; be as fast as you can without any wrong answers. Incorrect answers result in time penalties. At the end of the game, you are presented with your time, and Brain Tuner keeps track of your best times.
I like Brain Tuner because its premise is simple yet feels quite rewarding. While I can't scientifically prove that my brain is "more fit" after playing the game, it certainly feels like it. Brain Tuner has games with 20, 60, and 100 problems, and it usually takes me less than a second per problem, so I never spend more than two minutes on a 100 problem game. I can quickly play Brain Tuner when I have a little bit of idle time, like when I'm standing in line at the ATM, while I'm in the elevator, or while I'm waiting for a meeting to start.
Brain Tuner has some limited options to let you select whether addition, subtraction, multiplication, or division problems appear in the list. For example, you can make a list of only addition and subtraction problems, which could be used for kids who are just learning basic math.
I had no problems running Brain Tuner on my original iPhone and a 1G iPod Touch, both running iPhone software 2.2. In fact, the most puzzling thing about the game may be its name—billed as Brain Tuner on the App Store, the software itself is labeled Brain Tuner Lite once you've installed it on your mobile device. Whatever its name, Brain Tuner is a quick and easy way to stimulate your brain in a couple of minutes.
Brain Tuner is compatible with any iPhone or iPod touch running the iPhone 2.x software update.
[Roman Loyola is a senior editor for Macworld.]