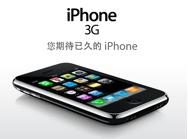 The iPhone 3G debuted last week in Taiwan, where Apple is partnered with the country's largest mobile operator, Chunghwa Telecom. However, despite claims to the contrary by Chunghwa, that relationship may not be entirely exclusive.
A report in Digitimes suggests that the handsets being sold in Taiwan are not actually locked for use with Chunghwa's network, even though the company says they can only be used on its network. Many users who've bought the phones are saying that inserting a SIM card from a different provider works fine, though it does mean that users can't access Chunghwa's special web services.
That fact might make Taiwan very attractive as a market for iPhones to be used in other countries where the device isn't available yet. However, one barrier to that is the fact that the iPhone is relatively expensive in Taiwan, carrying a pricetag of NT$26,600 (~US$800) for an 8GB model with no contract. And, as illicitly unlocked iPhones seem to have long been making their way to Asian markets at lower prices, the price premium may be seen as excessive. One advantage, however, is that a legally-distributed unlocked iPhone would likely carry less risk of being made inoperable by a future Apple software update.
Taiwanese iPhones aren't the only ones to be sold legitimately unlocked: France and Hong Kong are also among the countries that have offered unlocked iPhones.
[via Daring Fireball]