There are only 10 more shopping days 'til Christmas, which also means there are 10 more days for developers to boost the number of holiday-themed offerings in the App Store.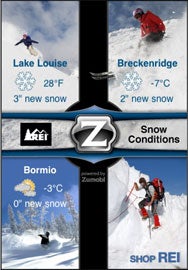 The latest addition is Mistletoe from Chilli X. The 99-cent app is billed as a "light-hearted interactive mistletoe simulator." Launch the app at your next holiday get-together, and you get a festive picture of mistletoe on the screen of your iPhone or iPod touch. Chilli X advise holding your mobile device over your head and shaking it to produce the sound of tinkling bells. Then, the developer says, it's just a matter of waiting for those well-earned smooches from holiday revelers.
Presumably, that's not a guarantee you'll avoid a long, cold, lonely winter.
Of course, other winter apps will have a shelf life beyond the holiday season. Outdoor gear and apparel retail REI has teamed with Zumobi to create the REI Ski and Snow Report .
The free download lets you look up conditions for ski resorts in the U.S., Canada, and Europe. Data available from the app includes top and base snow depth, weather forecasts, and the number of open lifts for a slope. The app also includes a resort's contact information and live webcams where available.
Oh, and just in case you need any gear or clothing for that upcoming ski trip, REI Ski and Snow Report just happens to include a link to the REI Web site. The app works on both the iPhone and the iPod touch.
Read more…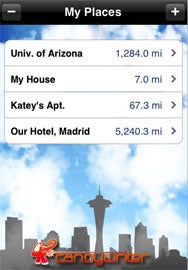 Other apps of interest that recently debuted at the App Store include:
SerialBase , from Bayhoff Software: The $2 app for any iPhone or iPod touch running the iPhone 2.1 software stores program serial numbers in a Contacts-like interface. SerialBase users can export program data to the Mail app for sending serial numbers, activation codes, and other data to their computer.
As The Crow Flies , from Candywriter: The free download uses GPS to tell you how far you are from your favorite places. The data updates in real-time. Because As The Crow Flies relies on GPS, it's only compatible with iPhones.
TapFinder apps, from GP Apps: This assortment of seven different $1 apps uses the iPhone's GPS features to help you find the nearest coffee sellers, restaurants, bookstores, frozen yogurt shops, cafés, and hotels.
Got an app you've just released to the App Store? Drop us a line.