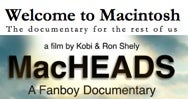 If you've gotten a tattoo of the Claris dogcow, know the code name of Mac OS 7.6, or ever camped out in front of Moscone Center (or at least thought about it) on a cold San Francisco day in early January, then you're probably the target demographic for a pair of movies about the Mac community that'll be showing at Macworld Expo next month.
First up is Welcome to Macintosh , which we've been following as it has developed. Those making the trek to the promised land can attend a special showing of the film about us crazy few.
The movie will be shown at 7 PM Thursday, January 8th at Sundance Cinemas Kabuki. It's not just any showing though, as the directors and some interviewees will be in attendance for a question-and answer session. If you attend, try to keep it relevant. We have enough trouble keeping ourselves on topic (Dan has a weird obsession with where people get their shoes).
If you're interested in going, stop by Brown Paper Tickets and get your tickets. Earlier is better because a city full of the subject matter might just want to go. You'll also get a discount on the DVD if you're there. Show some love for the filmmakers that are showing you some love.
If you want to catch a double feature, MacHeads will debut the day before on January 7th. We noted when the movie's second trailer hit the interwebs a couple of months ago. The film explores the staunchly loyal community of fandom built around 1 Infinite Loop, El Jobserino, Woz, and all the rest of the gang that came out of Cupertino.
Based on the trailer, it features footage from Macworld Expos of years past, clips of keynote addresses, interviews with the likes of noted Mac pundit Andy Ihnatko and at least one excerpt of a Macworld Expo seminar with Macworld's own Jim Dalrymple—before his goatee got really out of hand, anyway.
If you see any other Macworld/MacUser crew making an appearance in the movie, give us a holler, ya hear?