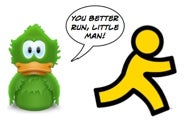 Please tell me that you haven't been waiting, breath bated, for a "True AIM Experience." Honestly, you should really know better. But if you were jittering with anticipation, you'll be happy to know that AOL has finally released AIM 1.0 for the Mac, a couple months after the program was in beta.
The final version sports a dubious list of "features," such as the aforementioned "experience" and also boasts of being "The Real AIM – not just an AIM-compatible IM client." Look, I've been using an AIM-compatible IM client for, oh, four or five years, ever since there's been something better than the true AIM experience, so I'm not going to count that as a selling point for you.
Besides, your "Real AIM" lacks all sorts of features that most modern clients on OS X have, such as linking into OS X's address book, support for simultaneous login on multiple accounts, and audio/video chats. Not to mention that apparently the true AIM experience includes having the program open AIM's homepage on startup by default (you can turn it off in the program's preferences, but seriously?).
About the only thing AIM would have going for it would be that it's free, if it weren't for the fact that iChat and Adium are both free as well. Sorry, AOL, but this 1.0 is too little too late.