Even with a 16GB iPhone at your disposal, it's not uncommon to have more media than you can reasonably store on such a device. But where the iPhone's storage capacity falls short, another of the iPhone's capabilities—its almost universal ability to access the network—can help pick up the slack. All you need to do is install Simplify Media and you can start jamming away to your whole music library wherever you are.
Think of Simplify Media as a bit like iTunes' built-in library sharing, only allowing you to share your music over the Internet instead of just your local network. Simplify Media consists of two parts: a desktop program running on Mac OS X, Windows, or Linux, and an app for your iPhone or iPod touch. You'll also need to set up a free Simplify Media account, which you'll be prompted to create when you first start the application.
When you launch the application on your desktop, it will start indexing your music collection (the desktop client is compatible with several popular music players, including iTunes on Mac OS X and Windows, WinAMP, and Rhythmbox). You can then access your library from any other computer where you have the desktop client installed, and even invite up to 30 friends to stream your music. To access the music from the iPhone or iPod touch, you purchase and install the $4 Simplify Media application and then log in with the same user name and password. Then you'll have access to all the compatible music on your desktop, including AAC, WMA, MP3, and Apple Lossless files.
The interface on Simplify Media is very similar to the iPhone's own iPod application, letting you access all of your iTunes playlists (including Smart Playlists), as well as browse by song, artist, album, and genre. List views display the track title and artist, and you can scroll by flicking through or by selecting the first letter from the list on the side, just like in the iPod application. List scrolling is a jerkier than Apple's own iPod interface, however—especially if you have a lot of songs.
To play a song, just tap it and the song will buffer and then begin playing. How long it takes to start playing will depend on your network connection: it took a few seconds while I was on the 3G network, Wi-Fi was about the same, and EDGE took the longest—about 15 to 20 seconds. Skipping between songs also takes a little while, as the stream has to rebuffer.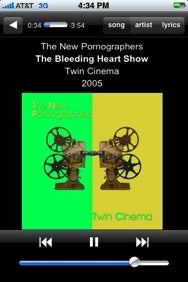 While playing music, you get the standard playback controls: Previous Track, Next track, Play/Pause, and a volume slider. (You can also use the iPhone's hardware volume buttons to change the levels.) If available, the display will show you the track name, artist, album, year, and album art. Originally, Simplify Media would download the album art over the Internet, but the company had to disable the feature, since it turned out not to be scalable. Now the art only appears if it's for a track that you also have synced to your iPhone. Without the art, the display is aesthetically pretty spartan, featuring just small white text on a black background.
At the top right of the screen are three buttons—song, artist, and lyrics—that control different viewing modes. The "song" mode is the default playback screen; tapping "artist" will give you a bio of the artist, pulled from music service Last.fm, and tapping "lyrics" will download and display the song lyrics from LyricWiki, if available. That's a pretty cool feature, actually, and a one-up on the standard iPod application, which only displays lyrics if you paste them into the song's metadata via iTunes. The latest version of the application, 1.2, also added integration with online music service Last.fm—by logging in with your Last.fm credentials, songs that you listen to via Simplify Media will be "scrobbled" to (i.e. displayed on) your Last.fm profile.
The sound quality of Simplify Media is pretty good: I'm no audiophile, but it sounded pretty comparable to listening to music right off the iPhone—maybe a smidge more compression, but still perfectly acceptable. The network connection is the main limiting factor in the app's performance, of course, with slower connections making the experience somewhat less seamless. The other major problem is that, unlike Apple's own iPod application, Simplify Media can't run in the background (a restriction enforced by Apple's Software Development Kit for the iPhone), meaning that whenever you leave the application—for example, to look up something about the artist—the music stops.
Every once in a while I also ran into an issue where Simplify Media just wouldn't play a particular song, but that was extremely rare. Also, while the Simplify Media desktop client does let you stream content purchased from the iTunes Store to other desktop clients (as long as the source computer is authorized and you're logged in with your own Simplify Media screen name), this feature isn't available on the iPhone or iPod touch, so you'll want to sync those tracks over as usual.
The biggest advantage of Simplify Media is that it lives up to its name: the program is straight forward and easy, doing precisely what it sets out to do. The interface could use some tweaking, but overall it delivers on the promise that it makes: that no matter where you go, there your music library is.
Simplify Media is compatible with any iPhone or iPod touch running the iPhone 2.x software update.
[Associate editor Dan Moren would prefer nobody ever truly know what music he listens to.]