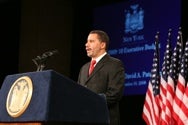 Hey, you New York State residents—you've been getting a free ride on them fancy digital music downloads for too long now. On Tuesday, New York State governor David Paterson unveiled proposed new taxes to help combat a $15.4 billion budget shortfall. These taxes would supplement plans to cut spending in a number of places—in fact, Paterson's proposed budget would be the smallest increase in spending in years.
Among the proposed taxes are higher rates on alcohol and soda (18 percent tax on non-nutritional drinks! Not Yoo-hoo!), tuition increases at the state and city univerisities, higher taxes on cigars (take that, Mr. Corporate Fatcat), and additional taxes on luxury items, such as cars over $60,000, aircraft over $500,000 (hangliders are safe), and yachts costing at least $200,000—thank heavens I got my yacht at a discount rate of just $150,000 last year, huh?
But, yes, included in the package is what some are calling an "iPod tax." That's a little misleading, as it's not a tax on iPods, but rather the levying of state and local sales taxes for "digitally delivered entertainment services." The iTunes Store would seem to be a prime target there, but Amazon, Wal-mart, and other retailers would take a hit from the proposed tax as well.
At least 16 states (and the District of Columbia) already charge sales tax on digital downloads, and with the current economic climate going the way it is, it wouldn't exactly be shocking to see those numbers rise. California's State Assembly defeated a proposal to start taxing downloads earlier this year, but there have been rumblings suggesting the idea might return. And other states, such as my home state of Massachusetts, don't charge for digital media downloads, but do charge for downloading software (such as from the App Store).
Well, like the man said, nothing's certain in life but death and taxes, which only leads me to conclude that we're all going to die.