Sonnet Technologies has introduced the DX800RAID, a new eight-drive external RAID system for Macs and PCs. It's priced starting at $3,995.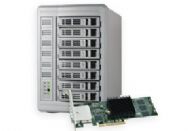 The DX800RAID supports Serial ATA (SATA) hard disk drive components and features a built-in Serial Attached SCSI (SAS) expander that lets you connect up to 16 eight-drive enclosures to a single RAID controller.
The system is aimed at digital video producers and others who need to work with exceptionally large amounts of data; it supports uncompressed 10-bit 1080 HD video, for example. It works as a RAID 5 or RAID 6 array. The DX800RAID sports read and write file transfer speeds of up to 680MB/sec and 640MB/sec respectively.
Other features include SCSI Enclosure Services (SES) 2.0 compliance and enhanced Self-Monitoring Analysis and Reporting Technology (SMART) data reporting for each hard drive installed in the system. All DX800RAID storage systems include two heavy-duty two-meter mini-SAS data cables, power cable, software CD and documentation.
The DX800RAID is available in 4TB, 6TB and 8TB configurations for $3,995, $4,495 and $5,495 respectively. Expansion systems with 4TB, 6TB and 8TB capacities cost $2,695, $3,195 and $4,195 respectively.