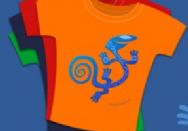 Assistive technology has improved by leaps and bounds over the last few decades, thanks largely to the birth of the personal computer, which has revolutionized the way people with disabilities can live their lives. The fact that a man paralyzed from the neck down is able to launch his own clothing line is a great indicator of how far we've come.
Amsterdam-based artist Giesbert Nijhuis injured his spine in an accident that left him paralyzed from the neck down at age 26. While many would have given up all hope, Giesbert got to work. With more than a little help from his Mac, AssistiveWare's KeyStrokes on-screen keyboard, a HeadMouse Extreme and Photoshop, Nijhuis is able to draw with his head. He's designed movie posters, birth announcements, CD covers, and now apparel.
Nijhuis teamed up with AssistiveWare, a leader in assistive technology software for Mac OS X, to launch his aptly named "Head Designed" apparel line. On the Head Designed website, you can watch a video of the process that Giesbert must go through to effectively control Photoshop using nothing but his head. It's absolutely humbling. Check out the Head Designed store and buy a cool gecko shirt. While you're at it, stop feeling sorry for yourself because your girlfriend broke up with you last Tuesday. Seriously, dude. Things could be a lot worse.