Professional audio software-maker Digidesign on Wednesday released Pro Tools 8, a significant update to the company's digital audio workstation software.
Among the many changes in Pro Tools 8 is completely redesigned user interface. While the new interface includes updated graphics and a new color palette, there is much more to the redesign than colors.
The Edit window now has a fully customizable toolbar that lets the user arrange elements like the transport window and buttons in a way that makes sense for your working environment. You can also view multiple lanes of data like waveform, pan and volume for each track.
Pro Tools features a new comp window that allows you to see all of your takes at once, instead of selecting individual playlists. You can then create a comp by selecting and promoting the area of audio you wish to include.
Pro Tools 8 also comes with over 70 plug-ins and virtual instruments, including Mini Grand piano, Boom drum machine, DB-33 tonewheel organ, Vacuum tube-modeled synthesizer, and Xpand!2 sample player. Digidesign is including Eleven Free, a version of its guitar amp software, as well.
Pro Tools 8 will ship with an 8GB bundle of music loops, too.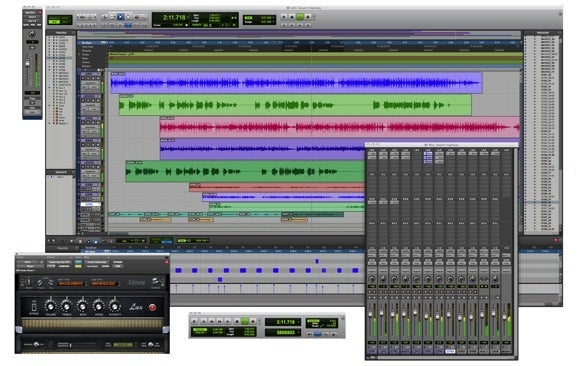 Digidesign has also expanded the number of simultaneous audio tracks to 48. If you add the Music Production Toolkit 2 or DV Toolkit 2 (Pro Tools LE only), you can get up to 64 audio tracks.
For the true power user, Digidesign is offering the Complete Production Toolkit (Pro Tools LE only) that combines the content of both toolkits, and offers up to 128 simultaneous audio tracks and 7.1 surround mixing.
Pro Tools HD 8 Upgrade costs $249; Pro Tools LE/M-Powered Upgrade is $149; and the Pro Tools M-Powered Full Version costs $299.