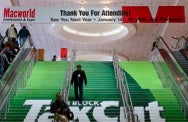 It seems like many of my colleagues have, in some fashion, chimed in with their opinion over the news that Apple will no longer be exhibiting at the annual Macworld Expo in San Francisco and Steve Jobs will no longer be giving the keynote presentation.
I don't know how long Macworld Expo will survive after Apple exits the show, but I certainly hope it can keep chugging along. Apple's an undeniably huge part of Expo, however, so it feels like this is the first domino tipping over. But while I'll miss the Steve Jobs keynotes and giant Apple booth with a chance to manhandle fancy new products, I think there's something even more important at risk of being lost.
Take this, for example. At the 2006 show, one kid attended the show on his own dime, having spent the last four months bumming around the world after quitting a soulless job in tech support and web development. It was the first Expo he'd been to since the 1994 show in Boston, where, as a 14 year old, he didn't even have enough scratch to afford a ticket that would get him into the keynote presentation. At the 2006 show he ended up having to watch Steve Jobs's keynote on a giant monitor in one of the overflow rooms, but it didn't matter: it was still a great experience for a longtime Mac fan.
But the best moment of the show came a day or two later, when this kid—who had gotten exactly one article published ever—introduced himself to Macworld's Editorial Director Jason Snell after a panel and asked him if there were any job openings at the magazine. "No," said Mr. Snell, "but we are starting up this MacUser blog…"
Read more…
Macworld Expo made that moment possible, and that's what I'll miss if it goes the way of the garefowl: the chance to interact with people face-to-face who you might only know from the ebb-and-flo of electrons. Since that 2006 show, I've had the great opportunity to meet dozens of people that I admire, and to interact with plenty of others whom I didn't know, but with whom I had an instant affinity, because we were all Mac users.
Apple may think that it doesn't need Macworld any more, and from a business perspective, that might be true. The company's gone mainstream these days: everybody has an iPod or an iPhone, and Mac laptops are a common sight on campuses and in cafes, and even, increasingly, in the corporate world. It's a far cry from the Apple of the late '80s and '90s, always teetering on the edge of the abyss. In those years, a big part of what kept Apple going was the community, the people whose Macs you'd have to pry from their cold, dead hands. And it's what sets Apple apart from most other computer companies: there's no Dellworld, no Microsoftworld, not even a PCworld (well, not counting our esteemed sister publication).
Of course, if Macworld Expo does close up shop, that won't be the end of the Mac community: the Internet ensures that we'll stick around as long as Apple's making great products. But it does mean that we won't have this same sort of annual party that allowed us to actually shake hands with the people whose blogs we read or with whom we've traded the odd email. Or, more importantly, the opportunity to while away the wee hours of the morning discussing the intricacies of gradients in Apple's UI design or the merits of this program or that over a beer.
In some ways, it's like the year you finally outgrew summer camp and the realization that maybe you'll never have a chance to see those friends or to make new ones ever again—at least in quite the same way. But worst of all would be not having the opportunity of returning the favor and helping out some other young kid who just stops by to say hello.