At a Glance
Expert's Rating
Our Verdict
[Editor's note: The MPAA and most media companies argue that you can't legally copy or convert commercial DVDs for any reason. We (and others) think that, if you own a DVD, you should be able to override its copy protection to make a backup copy or to convert its content for viewing on other devices. Currently, the law isn't entirely clear one way or the other. So our advice is: If you don't own it, don't do it. If you do own it, think before you rip.]
As any respectable road warrior knows, transferring movies from DVDs to your hard drive—"ripping" the discs—is great for portable movie watching. If you've got the hard-drive space, it means you don't have to deal with lugging around—or worry about damaging—a bunch of discs, and watching movies from your hard drive sucks up less battery power than using your laptop's optical drive. (Assuming your laptop actually has an optical drive, that is. If not, ripped movies are even more useful.) Ripping DVDs is also convenient for those with a Mac as part of their home entertainment system: all of your movies are ready for watching at a moment's notice.
The problem is that commercial DVDs are copy-protected to prevent you from ripping them as you would a music CD. So you need software that removes this copy protection as it copies the DVD's contents to your hard drive. We've long been fans of HandBrake and MacTheRipper for this task, but neither approaches the ease of use of, say, ripping a CD in iTunes. HandBrake is designed to rip particular parts of DVDs (usually the main movie or individual TV episodes) to video formats that will play on iPods, iPhones, Apple TVs, and other devices. So before ripping a DVD, you've got to choose which part(s) of a DVD to rip, where you'll use the resulting movie file, and which of many possible conversion settings to use. MacTheRipper rips the entire DVD—menus, special features, and all—but still requires you to know something about disc formats, regions, and other options. As a result, as good as both of these utilities are, I regularly receive comments from readers, and read posts in the Macworld forums, asking exactly how to use them.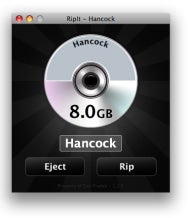 The latest DVD-ripping tool to hit the Mac platform is RipIt , and it's obvious the program was designed with ease of use as the primary goal. While limited in functionality, it's the simplest—and, in many cases, the most effective—DVD ripper I've seen.
To use RipIt, you insert your DVD, and in a few seconds you're presented with a screen that shows the movie name along with two large buttons: Eject and Rip. (RipIt automatically identifies the disc using an online database of DVD "fingerprints"; you can disable this feature if you prefer. You can also manually edit the name.) Apart from a few self-explanatory options in RipIt's Preferences window, that's the extent of the program's interface—it couldn't be much simpler to use.
Click on Rip and RipIt converts the DVD—the entire disc, including menus and special features—to a [movie name].dvdmovie file on your hard drive. While ripping, the RipIt window displays the time remaining, the percentage complete, and some spinning-disc eye candy; the program's Dock icon displays the same data as well as the rate of conversion. I tested RipIt on an older Mac Pro with a good number of DVDs, and while the program's initial estimates were generally around 35 to 40 minutes, most movies took less than 30 minutes to rip. Double-clicking on the resulting .dvdmovie file launches DVD Player and plays the "DVD" just as if you'd inserted the actual disc in your optical drive—a nice touch that adds to RipIt's ease of use.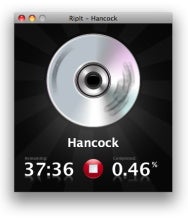 Of course, ripping an entire DVD, without any compression, means that each ripped disc takes quite a bit of hard-drive space: generally 6GB to 8GB, as opposed to 1.5GB or less when you rip and compress just the main feature using HandBrake. On the other hand, you get full-quality audio and video, special features, and alternate audio tracks.
(What if you later want to convert the ripped movie for viewing on an iPhone, iPod, or Apple TV—or if you just want to create a smaller file to conserve space? If you right-click on the .dvdmovie file in the Finder and choose Show Package Contents from the resulting contextual menu, you'll discover that the file is actually a Mac OS X package. Inside is a standard VIDEO_TS folder that you can drag into HandBrake or VisualHub to create a compressed movie file.)
One other advantage of RipIt, besides its ease of use, is that it's able to rip many newer DVDs that include enhanced copy-protection technology. RipIt was able to successfully rip every one of the newer DVDs I and several other Macworld editors tested, even when HandBrake and MacTheRipper failed. (The current public release of MacTheRipper is 2.6.6; version 3.0, which is currently in private beta, aims to handle these new technologies, as well. I'm looking forward to its release.)
On the other hand, if you're looking for a way to burn backup copies of DVDs, note that not all discs ripped using RipIt can be burned to a blank DVD using software such as Roxio's Toast; some discs include code that doesn't prevent playback when ripped but does prevent burning. The RipIt developers have said they're working on this issue.
If you need all the options MacTheRipper or HandBrake provides, or if your ultimate goal is to rip your DVDs for watching on a device other than your Mac, RipIt may be too limited. But for those people—and there are many of them—who just want an easy way to get their movies onto their computer's hard drive, RipIt is tough to beat: you just insert your disc and click a button. It reminds me of the old Jeff Goldblum iMac commercial: " There's no step 3!"
The fine print
If the letters DMCA mean anything to you, you know that there are legal questions surrounding the ripping of DVDs. Technically, it's illegal in the U.S. to create a tool for circumventing copyright protections. But the law is much murkier when it comes to using such tools. Our view is that moving video from your own DVDs to another device for your own personal viewing is fair use. But because the law is still not completely clear on this matter, every user will need to personally assess the risks involved in ripping DVDs.
Perhaps the bigger issue when it comes to RipIt is whether or not the developer itself will face legal issues for creating such a tool. I suspect the company will eventually receive a cease-and-desist letter from some media company. If so, there's a chance development—or at least commercial development—will cease. On the other hand, even if that happens, the copy of RipIt you buy today won't stop working just because the MPAA objects.