The iPhone continues to try and make its bones as a business tool, and a number of recent releases to the App Store look to aid in that effort.
Among these business-centric releases is PunchClock , the latest addition to the ranks of time-tracking apps for the iPhone and iPod touch. This offering from return7 lets you manage time for multiple clients, view and export reports in HTML and CSV, and filter reports based on client. The app currently sells for $1, which return7 bills as an introductory rate.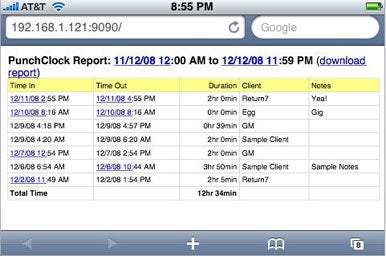 Amigle , a social networking app from the company of the same name promises to solve the problem of losing business cards and their valuable contact information. A free iPhone and iPod touch app that links to a Web-based service, Amigle promises to let you easily exchange and share profile info. What's more, the app boasts that it can keep both personal and professional contacts up to date.
iSugarCRM is also a mobile version of an application—in this case the SugarCRM customer relationship management software. The free iPhone and second-generation iPod touch app from Pramati Technologies gives users quick access to SugarCRM records, including access to accounts, contacts, leads, opportunities, calls, and meetings.
Read more…
Other apps of interest that recently debuted at the App Store include:
Got an app you've just released to the App Store? Drop us a line.