You've got your copy of iTunes and are pretty happy with its ability to play and organize the music on your computer and stream Internet radio stations, right? Imagine that you could do that plus skin the interface, scrobble the music you play (as well as log into and interact with your Last.fm account), play not only MP3 and AAC files, but also Ogg Vorbis, FLAC, and WMA (Windows Media Audio) files; access audio blogs and download the audio files on them; view a list of local concert appearances of artists found in your music library; stream a far broader collection of Internet radio stations; and automatically view lyrics to the song you're listening to.
If that sounds attractive, you owe it to yourself to download a copy of Songbird. Developed by the Pioneers of the Inevitable (who had a hand in developing WinAmp and the Yahoo Music Engine), Songbird is a free, open source, cross-platform media player/web browser based on Mozilla's XULRunner platform. Given its roots, it shouldn't be surprising that it resembles a web browser as much as it does a media player such as iTunes.
Alike
But resemble iTunes it does in its organization of your music. Along the left side of the Songbird window you see a pane that includes Library, Downloads, Radio, Playlists, and Bookmarks entries. (Other entries may appear depending on which extensions you've added. Yes, Songbird, like Firefox, supports extensions, which bring even broader capabilities to the application.)
Choose Library and the contents of your music library appear. As with iTunes, you can sort the contents of your library by Title, Artist, Album, Genre, Rating, Comment, and Date Added (and more). When you play a track a tabbed pane lets you see information associated with the selected artists. For example, you can view a discography, find links to MySpace, IMDB, and fan pages; read Amazon reviews of the selected album; read current news about the artist; view a slideshow of Internet-based photos associated with the artist; and watch music videos from YouTube, Yahoo, and MTV.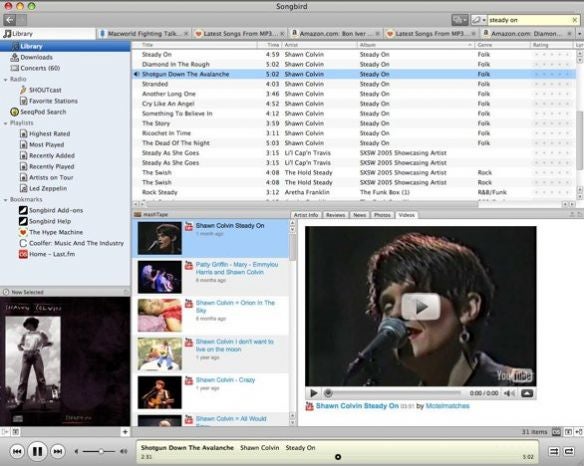 Creating playlists works similarly to iTunes. Just click a Plus button at the bottom of the contents pane and an empty playlist appears. Choose the tracks you want and drag them on top of the playlist icon and you've got your playlist. You can also create smart playlists by choosing File -> New Smart Playlist. These work similarly to the way they function in iTunes. Create conditions—Artist, Comment, or Composer, for example—and limit the number of items in the playlist by number (100), time (7 hours), or amount (5GB).
With the help of a QuickTime extension, Songbird can play protected purchased music tracks from the iTunes Store.
The differences
Enough about Songbird's similarities to iTunes. What makes it worth switching to? Concerts, streams, Last.fm integration, audio blogs, and downloads. Like so:
Click the Concerts entry and Songbird will ask to compare the contents of your music library to any concerts occurring in a geographic location of your choosing. So, for example, if you have jazz piano legend Chick Corea in your library and you live in San Francisco, you'll discover that Mr. Corea is playing at Berkeley's Zellerbach Hall on March 21, 2009 with John Mclaughlin's Five Peace Band. To view details, just click on the date or venue link. When you do, a webpage opens within Songbird (recall that this is also a web browser) and provides those details. Click the Buy Tickets button next to the concert and you'll be taken to a link to the services selling tickets (original sellers as well as scalp… er, resellers).
Click the triangle next to the Radio entry and you'll find SHOUTcast. SHOUTcast is the Internet's directory of streaming Internet-based audio stations. It's a terrific resource but can be a little difficult to navigate from the SHOUTcast web page. Songbird makes it easy to find what you want on SHOUTcast by organizing streams into genres as well as providing a search field. When viewing SHOUTcast streams you can sort streams by name, bit rate, comment, the number of current listeners, and by favorite status. That status entry hints that you can designate streams as favorites. When you do, a Favorite Stations playlist is created under the Radio entry. Click this to quickly access your favorite streams.
Songbird is very cozy with Last.fm, the music service that pays attention to the music you play (if you let it) and recommends music based on what you listen to. Just choose Tools -> Log in to Last.fm to do exactly what the command suggests. You've now got complete control over your Last.fm account. Listen to recommended music, watch recommended videos, grab some free downloads, rate the music presented to you… in short, use Last.fm as you normally would, all within the comfort of your media browser.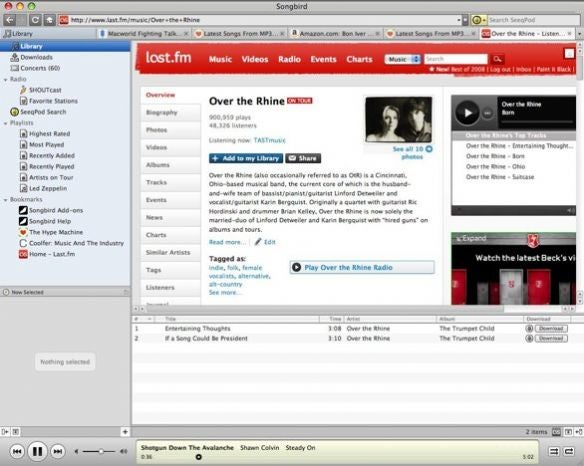 Out there in the great expanse that is the Internet there are vast numbers of blogs that focus on music. Many of them offer samples of the music they discuss in the form of audio files. When you pull up one of these sites by entering its URL in Songbird's Address field, any audio links on the page appear in a pane at the bottom of the screen. You can stream (and in some cases, download) these tracks directly within Songbird. No more hunting around a web page to find any audio files it contains. You're welcome to save these sites (or any site, for that matter) as a bookmark so that you can return another time to look for new audio files. And, of course, this works for any audio files. If a page is loaded with podcast episodes, for example, you can listen to- and download them as well.
If a page provides links to Amazon MP3, the iTunes Store, and/or eMusic, you'll see those services listed. Click the name of that service next to the track you're interested in and the host page opens. For example, if a page displays an iTunes icon next to "Happy Birthday" by Jonny Celebration and the Cake Faces, click the icon and iTunes opens to display that track's page at the iTunes Store. Slick.
If you don't see a Download button that doesn't mean that a track can't be downloaded. In some cases all you need to do is drag a track from the list at the bottom of the window to the Downloads entry in the source list. More often than not, the track will download and be added to your Songbird library.
Take a look
Like a lot of what goes on in online media these days, Songbird isn't performing any specific miracles. Rather, it aggregates a group of media chores that you'd otherwise likely split between iTunes and a web browser. So yes, you can do all this without Songbird, but not as conveniently. And for that reason, it's worth your while to give it a go.