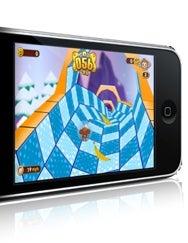 Apple's pretty judicious when it comes to investing their cash in other companies (or, at least, they're good about keeping it quiet). So the announcement from a small British-based tech firm, Imagination Technologies Group, that Apple has bought 8,200,000 of its shares is a bit out of the blue.
At 39 pence per share, that translates to about a $50,000 $5 million investment, and it gives Apple a 4 percent ownership in the company as well. So what makes Imagination Technologies Group so important to Cupertino?
Well, the company has a couple divisions, the better known of which is probably the development and manufacture of Digital Audio Broadcasting (DAB) radios. But more to the point, the company also works on creating chips for embedded graphics—in particular, the PowerVR MBX graphics chip that helps run the iPhone's graphics.
Investing some dough in the company suggests that Apple hopes to take advantage of Imagination's next-generation of graphics chips, which should allow for better 3D performance. It also may enable them to improve their HD video performance as well, including on external displays.
Of course, $50,000 $5 million is pretty much pocket change to Apple these days, what with its billions in cash reserves. Clearly, they think this is a worthwhile move—and who are we to disagree?
Update: Yes, I blew the arithmetic. I thought that figure seemed a bit low. Ironically, that was after I took special care to do the conversion so I wouldn't look like an idiot. That worked out great!
[via Infinite Loop]