Apple just announced iOS 17 at WWDC, and what has been rumored to be little more than a "maintenance release" focused on performance and reliability is a whole lot more. There are dozens of new features coming to our iPhones this fall, and while some are minor tweaks, others are game-changers. We expect iOS 17 to be released this September. Apple is making an early beta available to registered developers right away, with a public beta likely starting in July. We have a guide to tell you all about how to download the iOS beta.
These are the five features that have us most excited to update our iPhones this fall.
Live Voicemail transcription
When you get a call and let it go to voicemail, you won't need to wait for the message to complete to see it. Instead, the locked call screen will show a live transcription of the voicemail as your caller is making it. You might decide you want to take that call after all, so you can pick up the call with just a tap!
Apple
Improved autocorrect
Autocorrect has been a thorn in our side for far too long. With iOS 17, Apple is changing the on-device machine learning model to a "transformer" model (ChatGPT is a transformer model, for example) that should be far more accurate.
There are interface improvements, too. The system now learns your commonly used words, in-line suggestions as you type let you complete entire sentences, and if you tap a corrected word you can go back to what you originally typed in just a tap.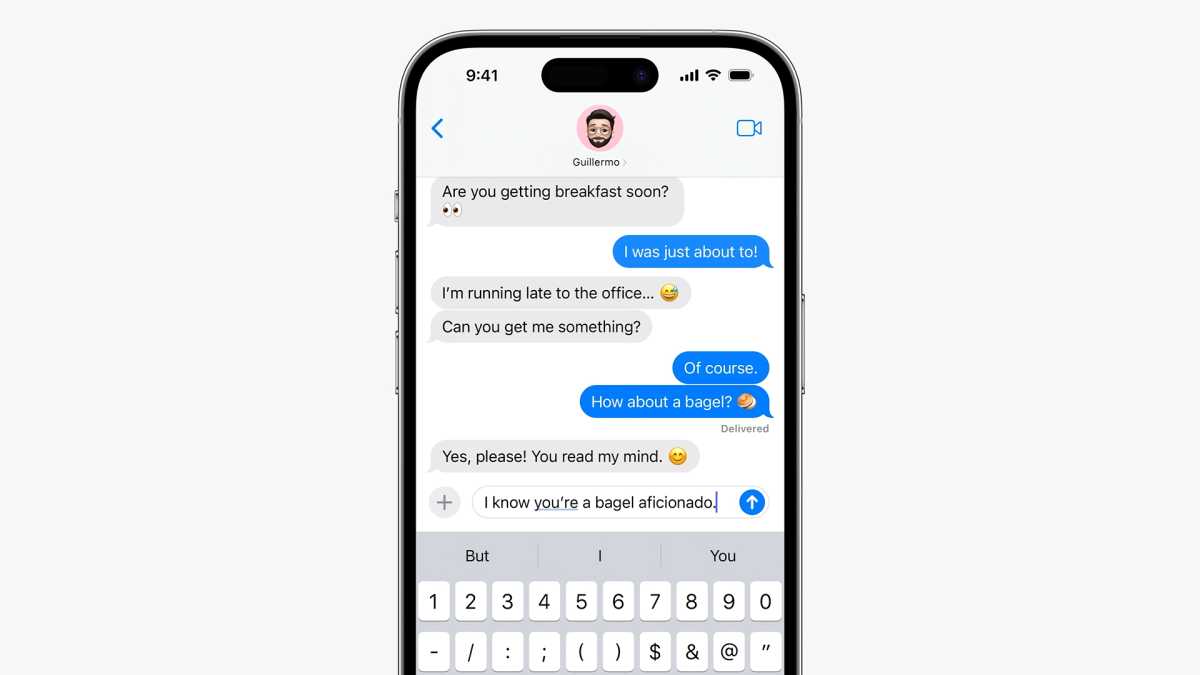 Apple
Did Apple just fix ducking autocorrect? We can only hope!
Contact posters
With iOS 17 you'll be able to make a custom contact poster that others will see whenever you call them. Customizing it is a lot like customizing your lock screen–choose a font, photo, styles, and more to give your contact a whole lot more personality.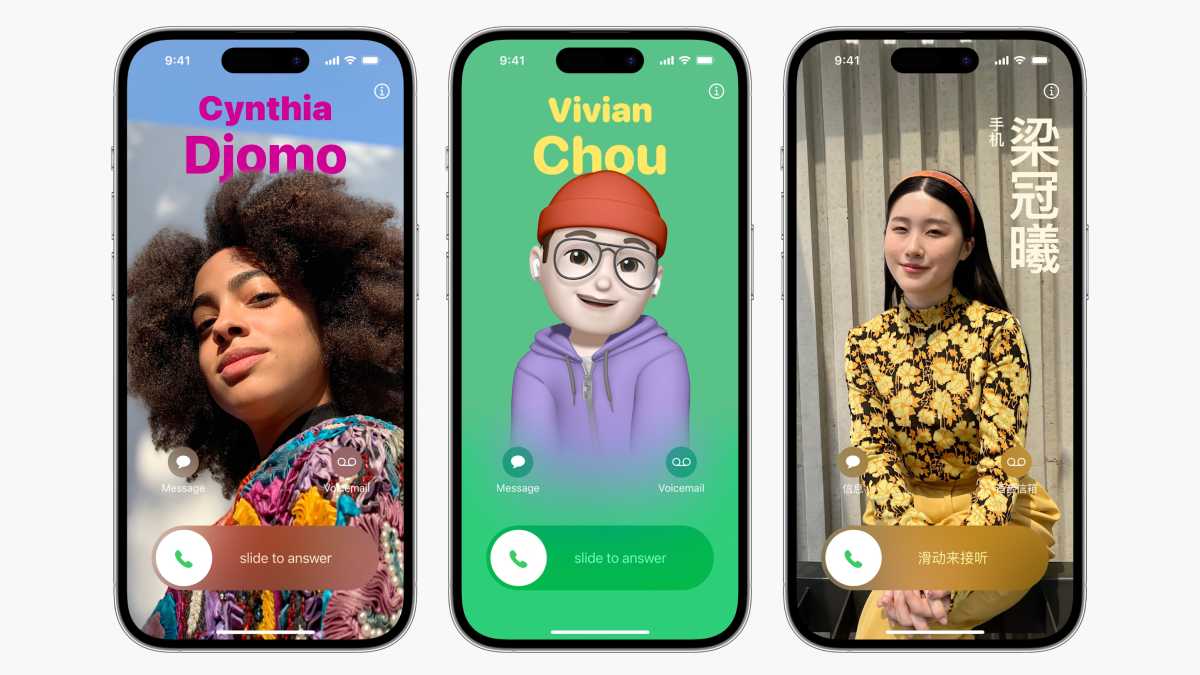 Apple
Your custom contact card will show up in Contacts for those people as well, and because they're supported by the CallKit framework, many third-party VOIP calling apps will support them automatically.
Easier AirDrop and NameDrop
Apple is taking a page from Android with its new AirDrop experience. Samsung phones have had a "tap phones together to transfer" option for years, and Android added it in a general way three years ago with Nearby Share. With iOS 17, you'll be able to bring phones close together to share with AirDrop.
If you have a big transfer going, you don't have to hang around to wait for the transfer. You can leave the area and the transfer will continue, at full quality, over the internet.
Apple
Transferring your contact info gets its own name: NameDrop. Just bring your iPhone near another iPhone with iOS 17 and you transfer your contact info, complete with your custom contact poster. You'll be able to quickly decide which info to share and which not to, so you don't have to give up your office phone number if you don't want to. You can even bring your iPhone near someone else's Apple Watch to NameDrop.
StandBy mode
When you charge your iPhone and turn it to landscape mode, iOS 17 will change the display to a new StandBy mode. It shows a big clock you can read from a long way away, and swiping up cycles through clock styles. Swipe left and right to pass through highlight photos.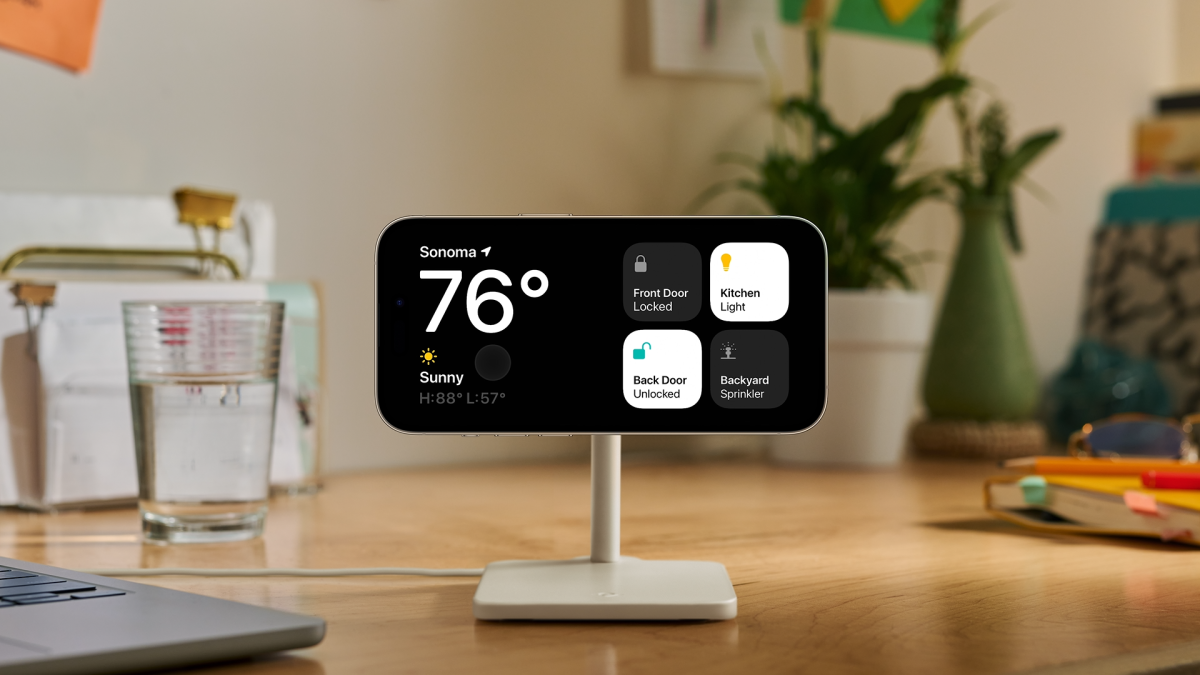 Apple
But the real magic comes from widgets support, including Smart Stacks and Live Activities. You can see home controls, calendar, weather, and even see when your food delivery is going to arrive. Because they're Smart Stacks, they learn which widget you want to see by location and time of day and attempt to show you the one that matters most, but you can always swipe between them.
The feature doesn't require a MagSafe charging stand, but if you use one, your iPhone will learn what you want to see for each different stand you use.