The following article is excerpted from The Industry Standard.
Ten years ago, Apple released a product that marked the start of its remarkable turnaround under Steve Jobs. The product was the iMac. The candy-colored, self-contained desktop computers was an eye-opener for people who were accustomed to beige PC towers that had all of the sex appeal of a Soviet apartment block. The iMac was an instant hit.
Reading the reviews of the first-generation iMacs, you can't help but chuckle. "The iMac's 233-megahertz G3 chip is astonishingly fast. We got the 56k modem up to 44k on our trials," gushed one CNN writer. At this speed, the iMac's "graphics and sound fairly screamed."
In addition to having a unique design, the "Internet Macintosh" had a few other innovations. There was no 3.5-inch floppy disk drive, just a CD-ROM drive. A newfangled USB port was included. Even at that early date, it was understood that a new Apple operating system, OS X, was planned for the iMac, although one of the analysts quoted in the CNN story recommended Apple developing an iMac that ran Windows.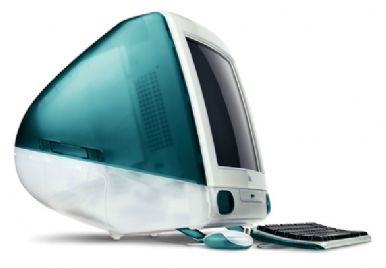 Ten years later, the iMac has cemented itself in the Apple product lineup. In recent years, it's been the only hot seller in Apple's desktop lineup (which includes the iMac, Mac mini, Mac Pro, and Xserve product lines), according to Apple's 2008 10-K filing with the SEC. OS X and iLife are the iMac's software underpinnings, and enable it to work with Apple's other blockbuster products, the iPod and the iPhone. The prediction of a Mac that could run Windows seemed silly ten years ago (Windows 98 had just been released) but not anymore. iMacs can now run Windows, and many owners do just that to use Windows-only apps or play PC games.
There has been innovation in other areas as well. Gone is the CRT monitor, replaced by a large LCD screen. The iMac's exterior design has been completely reworked several times (remember the half-dome?). Under the hood, the iMac is driven by an Intel multicore processor and a robust ATI or Nvidia GPU for graphics and video. This thing really screams now.
However, while Apple has been able to keep the iMac on the leading edge of design and consumer demand, its future doesn't look so bright. This may seem like an unusual statement considering the iMac has been in the leading product in its desktop lineup. Nevertheless, the iMac can't outrun trends taking place in the marketplace.
Even before the economic crisis hit, there had been an ongoing shift to notebook computers. Apple's 2008 10-K reflects this—overall Apple notebook sales more than doubled from 2006 to 2008, compared to a 70 percent rise in Apple's desktop sales.
The other trend to consider is the erosion in desktop hardware prices. The iMac dropped below the $2,000 price point in the early part of this decade, but current models still start at $1,200. PCs dropped below $1,000 years ago. Higher-end desktop PCs from Lenovo, Dell, and other well-known manufacturers handily beat the base iMac's hardware specs, yet cost less than $800.
Of course, Macs have always been a little pricier than PC equivalents, and people have been willing to pay for the sexy brand and the rock-solid OS X/iLife software bundle. But that premium is harder to swallow when the economy is in the toilet, people are losing jobs, and customers have to accept less-expensive options. PC makers' chip orders for the first quarter of 2009 are reportedly half of what they were earlier this year. There has been a huge rush to netbooks, low-cost laptops that use Intel's low-powered Atom processor.
Apple has been trying to hold the line on iMac pricing, but it won't be able to sustain $1,000+ levels in a recession. That doesn't leave Apple with many options. It could cut prices to maintain sales volume, but doing so would kill its margins, while biting into MacBook sales.
What else could Apple do? The obvious choice is to wind down its consumer desktop business. The iMac shook up the desktop market when it was launched, and it has been a market leader in the decade since. But the writing is on the wall. The iMac won't be able to survive a recession, or the unstoppable trend toward less-expensive, smaller, and more powerful computing hardware.
[Author's note: I have created a prediction in the Industry Standard's prediction market that asks whether Apple will publicly announce the iMac product line is being discontinued by September 30, 2009. What do you think? Leave comments below, or put your money where your mouth is—the prediction market gives new users 100,000 Standard Dollars, and lets you make "bets" with it. Also, I own an iMac.]
Note: When you purchase something after clicking links in our articles, we may earn a small commission. Read our affiliate link policy for more details.