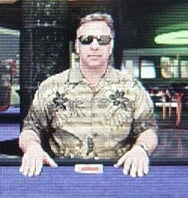 Sooo…
How was your week?
Yes, big news as Apple announces this will be its last Macworld Expo and Phil Schiller will deliver the keynote.
Will we all make it through this? Will Schiller have anything to announce? Will Jobs be leaving us forever? Will Dr. Killroy complete Angela's face transplant? Let's find out!
Every day is Apple day
You're probably already up to your ears in opinion about this, but buckle up, Belinda, because it's Thursday.
There's been a lot of wailing, gnashing of teeth and rending of garments over the past few days—and not just from the owners of strip clubs around Moscone Center—but the Macalope is here to tell you that life goes on. The trade show biz isn't exactly a growth industry these days and, with tough economic times ahead, luxuries like your precious keynote are the first to go.
We may not like it (where else is a mythical animal with a head shaped like a classic Mac going to get plied with free beer?), but it makes sense for a company whose buzz-level-per-word uttered in public is right up there with Chairman of the Federal Reserve.
It's like when you were a kid and asked why there was a Mother's Day and a Father's Day but no Children's Day. You remember the answer, don't you?
Read more…
Mini keynote
So, it might come as no surprise that the rumor du semaine (it means "week"—get your head out of the gutter) has Apple announcing a new Mac mini on January 6th. This seems disappointing after previous rumors that had a netbook taking center stage, but then you realize you're emotionally investing yourself in Apple rumors again, against your therapist's advice, and you're too filled with shame to worry about your disappointment.
The Mac mini seems like the most likely option at this point as a slick new low-cost Mac could let some of the air out of the concerns that Apple's pricing itself out of a tough market. But Michael Gartenberg suggests something the Macalope's been thinking:
"Economic slowdowns don't stop spending, but it means people will be more careful what they spend their money on," Michael Gartenberg, vice president of market research firm JupiterMedia and editor of the MobileDevicesToday blog, told Macworld. "In many cases they will spend their money on premium products that represent good value for the dollar—for many people that's not necessarily the cheapest product."
In tough economic times do people automatically switch to Brand X because it costs less, even if it's more likely to fail them when they need it? No. So don't listen to the moaning because Apple's not racing to the bottom. To paraphrase Dante Milton [It should be noted that, as a mythical beast, the Macalope did not receive a classical education], it is better to reign in heaven than serve up crap with Dell.
Hold on to your hats
While the Macalope firmly believes that Apple dropping out of Macworld Expo is solely a business decision and that Schiller delivering the keynote is just part of that natural progression, there may still be another shoe to drop here.
He hates to bring this up because he knows how sensitive you kids are, but the unpleasant truth may be that daddy's about to be going out for some cigarettes and he isn't coming back.
Rumors are swirling about Jobs's health but, c'mon, how long do expect the guy to keep doing this? He doesn't have to be ill to be tired of pouring his heart and soul into the same thing year after year. But contrary to those cold sweat-inducing fears that keep you up at night, Apple's not going to come apart like a cheap sweater the minute Jobs leaves.
That'll take years.
Lots of long and painful years.
Well…
Happy Holidays!
[ The Macalope is a fictional creature who is part man, part Mac, part antelope. He owns an insignificant number of shares of Apple stock.]