The iPhone and iPod touch are a gaming paradise. At least, that's what Apple's TV ads keep telling me, accompanied by that mind-melting earworm of a song by the Asteroids Galaxy Tour. And it's true—I've probably played more games on my iPhone than I have on the PSP I own that sits forlornly on the corner of my bookshelf.
Of all the games I've played—including my favorites, Quordy and the Tetrises—my absolute favorite iPhone game is Frenzic, by the Iconfactory and Artis Software. Unlike some iPhone games, which feel awkward once translated from the desktop to the phone (I'm looking at you, Enigmo), Frenzic is actually better on the iPhone than it was on the Mac ( ). The reason: instead of pointing and clicking rapidly with your mouse, you can now just stab madly with your finger. It's simply more direct.
Since your mom no doubt told you that it's not nice to point, let me explain why Frenzic is a game that's sure you wear out your fingertip with mad tapping. To borrow the description from my colleague Peter Cohen, Frenzic's premise is simple, like all great puzzle games. Frenzic's game board is six circles spread around a center circle. Each circle is divided into six pie-piece slivers, a la a Trivial Pursuit token.
Once the game begins, pie pieces in three colors—yellow, orange, and purple—begin appearing in the center circle. You have to tap on one of the six outlying circles to place that piece. There's no way to rotate the orientation of a pie piece—and if all six of your circles are full of pieces in the identical orientation as the next piece that shows up in the center, so you have no place to put it, you'll lose a life.
To earn points, you place pieces and fill up circles. To earn lots of points, you create circles that are all of a single color. When you fill a circle, it clears—giving you new real estate to drop new pieces—and you get a bonus. Sometimes you'll also get an extra life or one of three power-ups, which either provide you with double points for a limited time, slow down the game for a limited time, or blow up everything on the board, letting you start from scratch with six empty circles.
As a veteran Tetris player who recalls how long it used to take to get to the fast-moving insanity of level nine, let me tell you that Frenzic reaches a similar mad piece-dropping crescendo in far less time. As a result, game play is generally pretty quick—because once things get fast, you die. Or at least, I do. I'm tempted to accuse Frenzic of being slightly too hard, but it hasn't frustrated me enough to give up. Instead, I'm still playing—and my high scores are still improving, albeit slowly.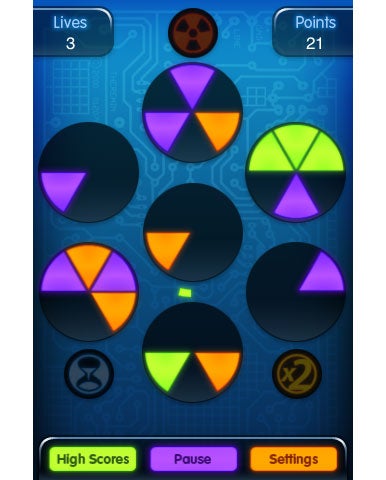 Speaking of high scores, Frenzic's online integration is remarkable. When you download the game you can sign up for a free account on Frenzic.com, the game's online portal. (The Mac version lamely requires you to pay for extended access to the web site, but it's all included with the iPhone version.) It's a social-networking site where you can make friends and leave notes for them, but most importantly it lets you track their high scores and compare them to yours. The program's High Scores interface lists your scores, all-time best scores around the world, the best players today, the best scores in your local area, and your friends' best score. A detailed Stats view lets you examine your own progress.
Every aspect of Frenzic shows an incredible attention to detail. Beyond the basic gameplay, which is excellent, the graphics are spectacular, showing great polish without getting in your way. The circuit-board background of the game board is pretty but subtle, easy to ignore when you're frantically placing pieces. The game pieces themselves are colorful. And the game's sound design is excellent, providing a pulsating soundtrack that's subtly repetitive but not annoying. In fact, I've come to appreciate the final chirp sound-effect and musical flourish that plays at the end of the game, even though I'm sad at having finally finished my game.
Frenzic is the first quick-reaction, pattern-matching game I've found in years that comes close to filling the L-shaped four-polygon place in my heart that was previously reserved for Tetris. And that's worth the increase in Trivial Pursuit-related nightmares I've been having, surely.
[Are those "yellow" pieces actually green? Don't ask Macworld Editorial Director Jason Snell — he's a tad color-blind.]