Chalk up another country on the iPhone list. According to Khaled over at SaudiMac, the iPhone 3G has now officially launched in Jordan, where it's being sold exclusively by wireless operator Orange. Purchase of the phone requires a one year contract, and the device is available with three plans ranging from 30JD to 80JD per month (between $43 and $115), with the higher plans lowering the cost of the handset.
Jordan is the second predominantly Arabic-speaking country to get the iPhone after Egypt, which brings that much more attention to the iPhone's atrocious support for the language. Despite the iPhone 2.0 software adding options for interface localization in sixteen languages and over twenty different input options—including radically different alphabets such as Cyrillic, Chinese, Japanese, and Korean—the iPhone's support for Middle Eastern languages has been shoddy since its release. The phone's interface can be displayed in neither Arabic nor Hebrew, and there's no way to enter text in either language.
That's not the only problem the iPhone has with Middle Eastern languages: at launch, the iPhone's Safari web browser only displayed Arabic and Hebrew characters on web pages as garbage. Later updates added support for Hebrew characters; they also made it so that Arabic characters are displayed instead of garbage. However, that "fix" is useless—Arabic is written in a script that has different form letters depending on the characters placement at the beginning, middle, or end of a word. MobileSafari displays all of the characters as their individual forms, which is unintelligible.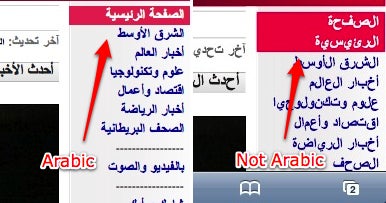 In addition to those shortfalls, Khaled point out that the iTunes Store (and by association, the App Store) isn't available in either Egypt or Jordan. Apple has, at least, finally released an official Arabic iPhone user guide, though I imagine that's rather cold comfort.
On the Mac side, OS X has excellent Arabic support in both the operating system and in Safari (though the browser used to suffer from the same unconnected-letter rendering, which Apple finally fixed). I guess we can put down yet another feature that it would be nice to see make the jump from desktop to iPhone.