PCalc RPN Calculator has already undergone a name change to boost the scientific calculator's visibility on the App Store. Now developer TLA Systems is taking the next step to promote an app that's already won raves for surpassing the functionality of the iPhone's built-in calculator: it's offering a free, lite version of PCalc.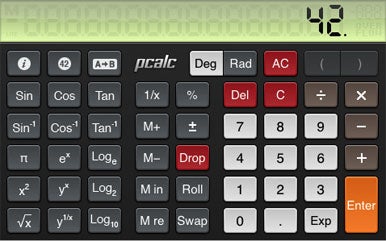 PCalc Lite Calculator is billed as a fully functioning version of TLA's PCalc RPN Calculator. The idea behind the free release, TLA says, is to give App shoppers a taste of what's in store for them if they pay $10 for the full-featured version of PCalc. The full version offers more settings and themes, a paper tape, engineering, and full support for hexadecimal, octal, and binary calculations.
TLA only plans to offer PCalc Lite for a limited time.
Other apps of interest that recently debuted at the App Store include:
When you purchase through links in our articles, we may earn a small commission. This doesn't affect our editorial independence.