Rogue Amoeba, the single-celled organism behind such stellar Macintosh audio-centric applications as Audio Hijack Pro, Fission, Airfoil, and Radioshift has released its first iPhone/iPod touch application, Radioshift Touch. Like Weather Underground's WunderRadio ( ), Radioshift Touch streams terrestrial radio stations from around the world to an iPhone or iPod touch connected to Wi-Fi, 3G, and EDGE networks. (The iPod touch supports only Wi-Fi networks.) Unlike WunderRadio, Radioshift Touch offers only MP3 streams. This is an important consideration in that Radioshift claims it can stream around 5,000 station whereas WunderRadio, which streams both MP3 and Windows Media Audio streams, offers more than 20,000 streams. I'll discuss this important difference after looking at Radioshift Touch's interface.
Radioshift Touch is laid out in intuitive fashion. Along the bottom of the screen you'll find Popular, Favorites, Genre, Local, and Search entries. They do largely what their names imply.
Popular is a short list of a few stations that are getting a lot of traffic on RadioTime, the service that provides streams to both Radioshift Touch and WunderRadio. Favorites are any stations you've bookmarked by tapping a Star icon while listening to a station.
Genres offers What's Hot and All tabs and lists genres as well as regions and cities—Adult Contemporary, Bluegrass, and Gospel as well as Africa, London, and Sydney, for example. I find mixing regions and cities with genres counterintuitive. In this respect I prefer WunderRadio's approach, where you tap a Browse by Location entry and then dig down to locations, starting with large regions such as Europe or Australasia, then selecting a country within that region, and finally a state, province, or city within the country.
Also, Radioshift Touch's genre listings are over-populated. For example, tap All and under the M heading you find Magazine, Marriage, Media, Medical, Men, Merengue, Metal, Mexican, Middle Eastern, Military, Mixed Martial Arts, Modern Rock, Money, Morning, Motivational, Motorsports, Music, Music Talk, and Music TV. That's a lot to weed through.
Tap Local and you see a list of radio stations within your vicinity based on where your iPhone or iPod touch believes you are. That vicinity can be as broad as 100 miles.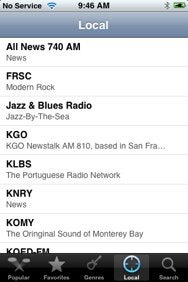 And finally, Search is exactly that. Enter the name of a program or radio station's call letters to find the program you want to listen to.
Radioshift Touch performs well. Unlike WunderRadio, which has crashed several times, Radioshift Touch behaved itself in my testing. And its stability versus that of WunderRadio's helps explain why Radioshift Touch offers far fewer streams than WunderRadio.
Rogue Amoeba's Paul Kafasis explained that he felt the open source ffmpeg engine used by WunderRadio to stream Windows Media Audio files wasn't reliable—it was prone to crashing and takes down any application using it. Also, its results were hit and miss—some streams play and other don't. And, from my experience, he's right. As I said, Radioshift Touch has proven to be more stable than WunderRadio—there are occasions when WunderRadio offers a stream that simply won't play.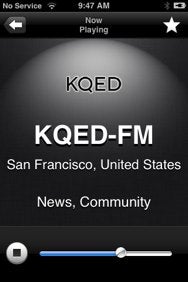 However—and this is an important however—many Windows Media Audio streams do play reliably with WunderRadio. If one of those streams happens to be a favorite radio station not offered by Radioshift Touch or one that's playing NPR's Fresh Air right now versus seven hours from now, some may turn to WunderRadio and risk the occasional crash.
So how to decide? Given that WunderRadio is $6 and Radioshift Touch is $10, anyone with $20 in their pocket can buy both (and spend the remaining four bucks on two TV episodes at the iTunes Store) and have both quantity and quality. If you're strapped, though, the deciding factor is likely to be whether the stations you care about are supported by one application or the other. To see which stations Radioshift Touch can access, visit Rogue Amoeba's Online Station Browser. Enter a keyword or zip code to search for programming that matters to you. Weather Underground offers a similar service for seeking stations and programs.
Radioshift Touch is compatible with any iPhone or iPod touch running the iPhone 2.x software update.
[Senior editor Christopher Breen is the author of iPhone Pocket Guide, third edition (2008, Peachpit Press).]