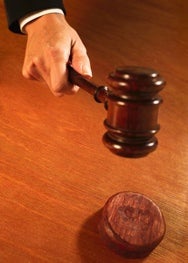 It's for special occasions just such as this that we visit the six separate banks in which we keep our safe deposit boxes (their numbers chosen from the Fibonacci sequence, naturally). In them? Nothing less than the segments of our mightiest weapon for combatting the spread of litigation across our fair world. I refer, of course, to the MacUser Gavel O' Justice.
So, who dare disturb the slumber of the gavel now? 'Tis EZ4Media of scenic Bannockburn, Illinois (not to be confused, of course, with the epic 14th century Scottish battlefield)! The company alleges that Apple has violated several of their patents with features in the Apple TV, Airport Express, and the Mac.
EZ4Media makes a device called EZfetch that you can hook up to your TV to display your media, wireless transferred from other sources in your house. Sure, it sounds like the Apple TV, but there's dozens of devices out there that do the same thing—a fact that EZ4Media is quite aware of, as earlier this year it sued Logitech, Netgear, D-Link, Samsung, Pioneer, Yamaha, and Denon. Everybody, now!
The patents in question were acquired by EZ4Media from another company, Universal Electronics, last March. But EZ4Media has another card in its hand; according to the company, Apple hired three former employees of Universal Electronics around a year before it shipped the Apple TV. So, à la the Papermaster hubbub, there's a question of precisely what knowledge was floating around Apple and when. While at least one of the people in question has apparently moved on to work at electric car-maker Tesla, he's said that he didn't work on the Apple TV during his stint in Cupertino.
Personally, I'm just waiting for my patent on "A process or method for describing, in words, a news story of the technical persuasion using elements of humor, irreverence, and Snark(TM)" to come through. Then I can finally retire and watch the money roll in.
[via InformationWeek]