It seems like we've been waiting forever, but the first Apple keynote of 2023 is finally here—and it's a big one. We're expecting a ton of announcements at WWDC 2023, from the unveiling of iOS 17 and macOS 14 to the launch of Apple's first mixed-reality headset. Follow along with us live right here!
WWDC 2023: The announcements
Apple launched numerous updates and new products during the WWDC keynote, including:
iPadOS 17: The best new features
macOS 14 Sonoma: The best new features
watchOS 10: The best new features
M2 Ultra, Mac Studio, and Mac Pro
Vision Pro: Apple's first spatial computing headset
WWDC 2023: Watch the keynote
The WWDC 2023 keynote will start at 10 am PT and will be streaming on Apple.com and YouTube. Here's how to watch WWDC live. You can also watch the keynote below.
WWDC 2023: Live updates from the keynote
9:30 am PT: We're onsite at Apple Park and have photos on our Twitter account!
9:40 am PT: HI everyone, this is Roman Loyola. I'm at Apple Park attending the keynote. There's a buzz here that's different from past keynotes. A ton of excitement in the air–there's always excitement at WWDC, but with the subtext of what might happen this year, it's more palpable.
9:52 am PT: The keynote is starting soon and people are getting settled in.
9:57 am PT: Tim Cook and Craig Federighi are on stage welcoming everyone
10 am PT: The keynote is starting with an opening video
10:01 am PT: A video is playing with Tim Cook introducing WWDC. It looks like there won't be live presentations.
10:02 am PT: The Mac is first up. John Ternus is hyping up Apple silicon.
10:04 am PT: 15-inch MacBook Air intro. 11.5 mm thin, 3 pounds. MagSafe, 2 Thunderbolt port, headphone jack, 4 colors. Liquid Retina display, 500 nits brightness. 1080p camera. 6 speakers. M2 chip. 12x faster than fastest Intel MBA. 18-hour battery life. $1,299. Available next week. 13-inch MacBook Air down to $1,099.
10:08 am PT: New Mac Studio with M2 Max and Ultra. 192GB of memory max! 800GBps! M2 Ultra is 50% faster video processing than M1 Ultra. Supports up to 6 Pro Display XDR.
10:13 am PT: Mac Pro with M2 Ultra! 192GB unified memory. Built-in afterburner performance (7x)! 8 Thunderbolt ports. 6 open PCI ports. Same tower and rack mount as before.
10:16 am PT: iOS 17. Live transcriptions of calls. FaceTime messages. Messages gets search filters, catch-up arrow, swipe to reply, audio message transcription, inline location, Check In, updated design, new Stickers UI and Live Stickers. These Messages upgrades are going to increase green bubble envy
10:25 am PT: AirDrop updates: NameDrop, SharePlay API for device to device media sharing.
10:26 am PT: Autocorrect more accurate and quick reverting, inline predictions, more personalized. Lots of indirect AI references here.
10:29 am PT: New Journal app. Personalized suggestions from machine learning to inspire writing. New Suggestions API.
10:31 am PT: The rumors Standby mode for iPhone is being announced. Makes your iPhone in landscape mode an interactive display while charging.
10:33 am PT: No more "Hey" in Hey Siri. Pets recognition in Photos. Find My Item Sharing.
10:34 am PT: iPadOS 17: Widgets, new Lock Screens. Live Activities on Lock Screen–track scores, deliveries, multiple timers.
10:38 am PT: Health app coming to iPad.
10:39 am PT: PDF with autofill support. Signature support. Notes app gets expanded PDF support, live collaboration.
10:42 am PT: Stage Manager improvements, external display camera support, Follow Along, many iOS 17 features are in iPad OS 17.
10:43: am PT: macOS Sonoma. Sonoma imagery for desktops, screensavers. Widgets can be placed on desktop.
10:46 am PT: Mac Gaming and Game Mode–game get priority on CPU and GPU, lower audio and input latency. Game Porting Toolkit for porting games from other platforms. Death Stranding Director's Cut coming to the Mac.:
10:51 am PT: Video conferencing and presenter overlay, reactions video effect, works with third-party apps.
10:52 am PT: Safari locks browser window when not in use; ability to share passwords and passkeys; profiles; Web apps can be made from any website.
10:56 am PT: AirPods Adaptive Audio matches noise cancelation to environment. Conversation awareness lowers music. Improvements to auto switching.
10:59 am PT: AirPlay updates. AirPlay in hotels. Apple Music and CarPlay get SharePlay in the car.
11:01 am PT: tvOS 17 redesigned Control Center. Siri Remote. FaceTime on Apple TV, it works with iPhone as the camera/mic. Continuity Camera API for tvOS.
11:04 am PT: watchOS 10 has "comprehensive redesigns." Use Digital Crown to reveal widgets, World Clock redesign with dynamic background colors, Activity app with corner icons, redesigned trophy case, new Palette and Snoopy and Woodstock watch faces.
11:10 am PT: New Cycling features, can connect to Bluetooth sensors, FTP estimation and Power Zones, activity automatically appear on iPhone. Hiking compass calculates waypoints, emergency calls, 3D waypoint view, new topographic map. Trail search, length, difficulty, etc. Features to adjust golf and tennis swings.
11:15 am PT: Health gets mental health features, standard assessments. Vision Health feature to help with myopia, checks daylight exposure and screen distance.
11:20 am PT: Developers betas available today. Fall official release.
ONE MORE THING
11:21 am PT: Apple announces Apple Vision Pro
11:22 am PT: Headset looks more like ski goggles than a VR headset. It looks futuristic. 3D interface with apps appear in your environment. It looks like your room is the UI. EyeSight allows your eyes to be seen through the headset. Can use input device and act as a Mac display. FaceTime support and share apps. 3D camera.
11:33 am PT: Using Photos with Vision Pro, surrounding lights dim, view panoramas fully. Watch videos with spatial audio. Cinema environment for movies. Apple TV content available. Play video games.
11:39 am PT: Bob Iger of Disney talks about Apple Vision Pro partnership. Disney+ available on day one.
11:43 am PT: Front is laminated glass. Frames has button and Digital Crown. Aluminum alloy frame. Thermal design draws air to keep it cool. Modular system to conform to the face. Band with adjustment dial. Optical inserts for vision correction for people who wear glasses. Separate battery connects view cable.
11:47 am PT: Displays: curved micro OLED with 23 million pixels across two displays. Three-element lens to allow sharpness and image clarity. Spatial audio. Eye-tracking system. M2 chip. New R1 chip that processes input data from cameras.
11:53 am PT: You created a digital persona that is used for FaceTime. visionOS is the operating system, designed from the ground up for spatial computing.
11:56 am PT: Developers can use already-available tools to create visionOS apps. Unity apps run natively.
11:58 am PT: OpticID uses your eye's iris for user identification.
noon PT: Apple Vision Pro is $3,499
12:05 pm PT: That's it! Be sure to check Macworld.com for the lowdown on all the announcements.
We have a dedicated WWDC Channel with all our WWDC related stories, including: Apple Vision Pro: Everything you need to know, New Mac Pro with M2 Ultra guide, macOS 14 guide: Everything coming in the next major Mac software update, 15-inch MacBook Air: Everything you need to know about Apple's new laptop, iOS 17 Guide: Here's what's coming in the iPhone software update later this year and M2 Max & Ultra Mac Studio: What you need to know.
WWDC 2023: Latest news and rumors
Apple Store down: As usual, Apple has taken its online store down hours before the keynote, which is a sign that new products will be available for purchase or preorder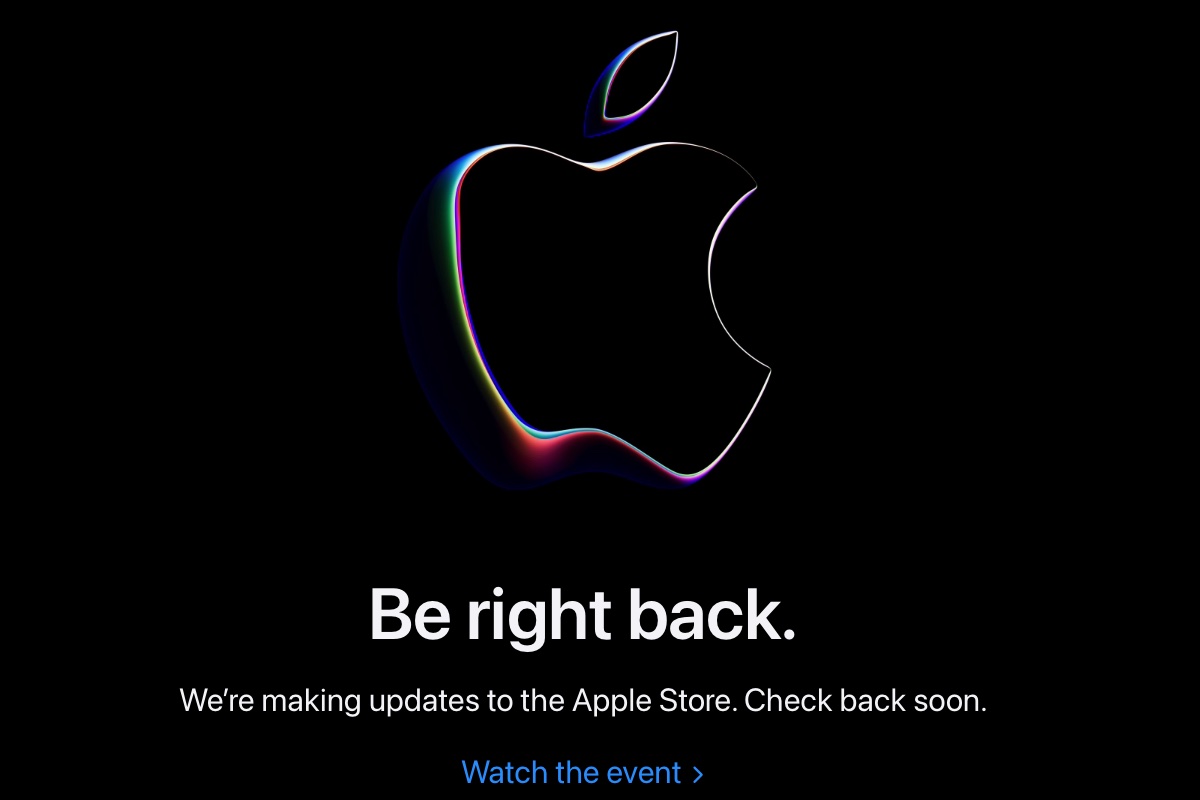 Foundry
Headset shipping next year: Ming-Chi Kuo reports that the headset might not begin mass shipments until 2024. That's not uncommon—the Mac Pro, iMac Pro, and HomePod were all announced at WWDC and didn't ship in large quantities until the first quarter of the following year.
Headset name and price: A rumor from Yeux1122 on Naver claims Apple's headset will be called Apple XR and cost $1,999 rather than $2,999 as rumored.
On-site demo structures: Bloomberg's Mark Gurman reports that Apple has built "two demonstration areas" ahead of today's event. According to the report, one is inside the Steve Jobs Theater as usual, but Apple has also prepared a second temporary structure exclusively for demoing the headset.
No more 'Hey Siri': Gurman reports that Apple may drop the "Hey" from its hands-free "Hey Siri" prompt in iOS 17.
Apple headset colors: According to leaker billbil_kun writing for French tech site Dealabs, the AR/VR headset will be available in several colors, including black, blue, grey, green, and pink. The same report claims it will be available with either 128GB or 256GB.
watchOS 10 Weather app redesign: Among the many changes expected in watchOS 10 is a new Weather app that looks more like the iOS 16 version.
Mac Pro stock dwindling: Most configurations of the Mac Pro on Apple.com are back-ordered by 4 weeks and won't ship until July.