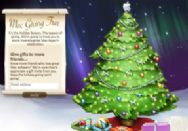 It's that time of the season when kids get crazy excited and grown ups get crazy stressed out. Fortunately, the folks at MacHeist are letting us be kids again.
While MacHeist is generally known for selling application bundles, it's getting very much into the spirit of Christmas with its Mac Giving Tree, which gives registered users of the site free apps just for Christmas.
Right now, it's giving out Pangea's addictive 3D puzzle game Enigmo 2, and the iTunes enhancing app Synergy. That's $33 worth of software for free, folks. Now that's some holiday spirit! A MacHeist account is free, so anyone is welcome to come and partake in the holiday gift-taking.
There are two unmarked boxes still under the tree, both labeled "Unwrap me on Christmas Day". One can only wonder what's in store for those who remember to check the site on December 25.