The iPhone can store just about any piece of information your heart desires—contacts, photos, and Web pages. But getting that information off your iPhone can take some doing. EuroSmartz aims to tackle the task of printing out that information with its appropriately-named app Print .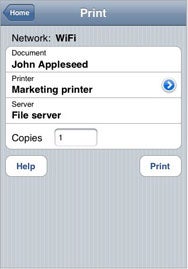 The $3 app for any iPhone or iPod touch running the iPhone 2.1 software update lets you print via Wi-Fi or cellular networks. EuroSmartz says its Print application lets users print any Web page, contact, or photo from a mobile device, including the ability to print remotely back to an office or home printer.
Note that Print requires you to download a free desktop application that runs on OS X 10.4 or later (as well as Windows XP or Vista, though the developer warns that some Windows configuration may be required).
Other apps of interest that were recently added or updated at the App Store include:
Read more…
Got an app you've just released to the App Store? Drop us a line.