At a Glance
Expert's Rating
Our Verdict
As Mac users, we're fortunate to have a wide variety of Web browsers to choose from. Heck, many people even use multiple browsers regularly. For example, some sites work better in different browsers; if you develop Web sites, you want to test your work in different browsers; or perhaps you like to keep your personal and work-related browsing separate.
One of the hassles of using multiple browsers is OS X's default-browser setting, set in Safari's preferences or using a third-party utility such as RCDefaultApp or More Internet. Once you've chosen your default browser, every Web URL you click on outside of a Web browser—for example, in an email message, in a word-processing document, or in an HTML file you're editing—will open in your chosen browser. If you want to open a particular link in a different browser than the default, you have to copy the URL and paste it into that other browser.
Recently, however, a couple utilities have emerged to make it easier to choose a browser for each link you click on. Today I look at Highbrow; later this week, I'll cover Choosy.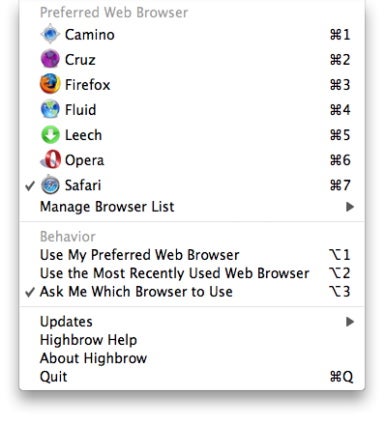 Highbrow sits in your menu bar, providing a handy menu listing all your installed browsers; choosing a browser from the list sets it as your default (preferred) browser while Highbrow is running. By choosing Highbrow's Use My Preferred Web Browser setting, Highbrow simply functions as a quick-access way to change your preferred browser.
(The first time you launch Highbrow, it populates its menu with any programs that claim—via documentation within each program itself—they can handle Web URLs; these may include programs such as Movie Player and VLC, as well as Web browsers present on your Mac that you never use. If you don't want these programs to appear in the menu, you can remove them via the Manage Browser List submenu. Removed programs always remain in this submenu so you can add them back to the main menu, if desired.)
If this was all Highbrow did, it would be a convenient utility. But Highbrow can instead be set to intercept all Web URL actions and direct them, on the fly, to the browser of your choosing. (Note that when you click on a link within a browser, that link will always be opened in the current browser. Highbrow intercepts links you open from outside of Web browsers.)
Opt for Use The Most Recently Used Web Browser, and clicking on a URL outside of a Web browser opens that URL in whichever browser you used most recently, regardless of your default-browser setting. I was impressed by how well this option worked in my testing: Highbrow always correctly opened Web URLs in the browser that was most-recently frontmost.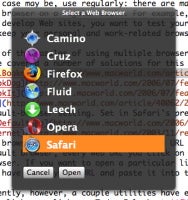 The other option, just as useful, is Ask Me Which Browser To Use. After choosing this setting, clicking on a Web URL pops up a translucent window listing the same browsers present in the Highbrow menu. Choose one using the mouse or keyboard and the URL opens in that browser. I find this option to be especially useful when trying to figure out how a particular Web site or page looks in various browsers.
Although the Highbrow menu lists keyboard shortcuts for each browser and for each of the three Highbrow behaviors, none of these shortcuts worked for me. Hopefully this will be fixed in a future version. I also experienced, on two occasions, an issue where the pop-up browser chooser wasn't visible; quitting Highbrow and relaunching it fixed the problem. And there's no way to manually add a program to the Highbrow menu if it doesn't show up there automatically. Although I didn't have a need for such a feature during my testing, I can imagine situations in which I might, so it would be a nice capability to have.
Finally, Highbrow works by changing OS X's default-browser setting to Highbrow itself—that's how the program intercepts Web URL actions. However, this means that when you quit Highbrow, clicking on a URL outside of a Web browser causes Highbrow to relaunch. Highbrow should either restore the default-browser setting to its previous value, or set it to the browser you've chosen within Highbrow.