John Moffett's iHunt is a simple shooting game that features three distinct shooting experiences: deer, pheasant and clay pigeons. It uses the iPhone's built-in accelerometer to adjust your sights, and touchscreen buttons provide the ability to change your view and fire.
The game's App Store page touts "realistic hunting sounds" and "beautiful scenery" among other things. You can choose levels of difficulty, from easy to impossible (which lives up to its name). You can also select your firearm, rifle or shotgun.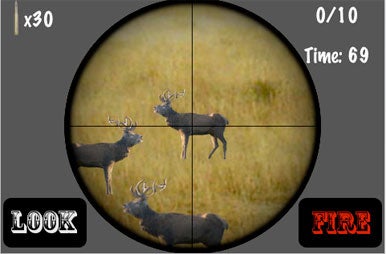 The background graphics are based on real photos, rather than animations. The deer are on the high grass of a rolling plain, the skeet shooting area has a painted hills backdrop, and the pheasant are in a marshy wetland. All are fairly realistic and provide enough clarity to spot your prey. The sound effects for the animals are a little cheesy, but at least they give you confirmation you've hit your target.
The racking of the shotgun and bolt-action rifle are good and allow you to know when you'll be able to fire off your next shot. This comes in very handy in the advanced stages, when you don't want to waste any ammo on unsteady shots.
You have to use the iPhone's accelerometer to scroll both horizontally and vertically. You have two view options. One is the wide view where you can see the entire field. Then your zoom option zeroes in with crosshairs for an aimed shot.
Read more…
The scoring is simply X out of a possible Y within the time limit and without running out of ammo. It would also be nice to get more points for targets at greater distance, plus maybe some bonus points for a special target.
The deer hunting game is the weakest of iHunt's three offerings. Remember that old-timey carnival game, where iron ducks are pulled in a straight line across the horizon? Shoot your pellet gun, the duck goes down, repeat until you run out of ammo? That's pretty much what you get with iHunt's deer venue. The basic up/down action after the shot just isn't very exciting. Many deer strolling across your path in different directions at various distances, and a single shot on target topples them. Find two deer crossing paths and you can even score a two-for-one.
I found the clay pigeon venue to be the most realistic, especially once I got the hang of tapping the touchscreen Zoom button and zero-ing in. It also gives a realistic shot pattern with the shotgun. No direct hit is required—just get your shot in the area and you'll be fine. It also helps to catch the target on the way up, because the clay pigeon disappears quickly once it passes the apex.
I didn't have so much luck with the pheasant venue. The shotgun required a direct hit, and it didn't seem to appreciate the value of "leading' your target. The movement pattern is identical to the deer venue with the prey moving horizontally. Two things are unrealistic with this venue: Pheasant live in flat, grassy areas and not in wetlands. And when they flee, they take off in a direction opposite the approaching predators. Never, ever has a pheasant cross my path horizontally.
The game is entertaining for a while, but interest waned once I got the aiming/firing down and figured out there were no bonus scoring options. The graphics are well done and provide a good backdrop for shooting. I can see this game as a good introduction for using the accelerometer for other shooting games.
iHunt is compatible with any iPhone or iPod touch running the iPhone 2.1 software update.
[Curt Poff is the senior Web producer at Macworld. Every year his venison-loving boss "suggests" he take a vacation that coincides with the opening of deer season in Missouri.]