Back when we were assembling the Winter Gear Guide that appeared in the December 2008 edition of Macworld, I asked my colleague Christopher Breen to contribute a section on creatively presenting the iPhone 3G as a gift, should anyone on your shopping list be lucky enough to receive Apple's smartphone this holiday season. After all, the iPhone 3G presented unique gift-giving challenges: Unlike the original iPhone, which you could simply buy, gift wrap, and sit back for the outpouring of gratitude from the thrilled-to-pieces recipient, the iPhone 3G requires in-store activation. AT&T and Apple have their reasons for imposing that restriction—since AT&T is subsidizing the cost of the iPhone this time around, it wants as many users activating service as possible—but the bottom line for gift-givers is that it means handing over a box that's empty, save for a hand-scribbled note reading "I.O.U. one iPhone 3G." And for recipients, it means spending December 26, jostling with other shoppers to pick up their gift.
We ended up with so much gear for the iPhone, iPod, mobile users, and desktop-bound Macs that Chris' article wound up on the cutting room floor. That's just as well since right after the December 2008 issue went to press, several things happened that made the iPhone 3G a much more attractive gift option.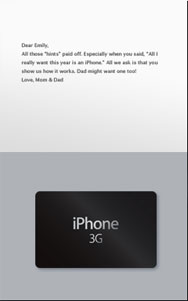 First, in late November, Apple started offering iPhone 3G gift cards. Available through the Apple Store, the cards can be set at any value between $25 and $2,500 (Apple helpfully lists the prices for the 8GB and 16GB iPhones), and you have the option of including a personalized gift message. Recipients can either redeem the card at a nearby Apple Store or via an online process that lets them schedule a pick-up and activation time at their convenience. (Also convenient: the fact that the iPhone 3G gift card—while specifically branded with the iPhone's distinctive black and silver coloring—can be used to buy anything from Apple's retail outlets.)
While Apple's gift card lets you give your friend or relation something other than an empty box, AT&T now lets you give the phone itself. Earlier this month, the iPhone's exclusive service provider began selling the iPhone 3G online. Not only does this save you the trouble of trudging out to the store to pick up a phone, you—or your lucky gift recipient—can activate the phone from the comfort of home. As I type this sentence AT&T's Web site indicates that 2-day priority shipping is free, so procrastinating holiday shoppers should probably stop reading this blog already and close the deal.
These moves by Apple and AT&T have made the iPhone a much more attractive option for gift-givers, whether it's this holiday season or at some point in the future (birthdays, graduations, or just because you like the cut of someone's jib.) Still, that scrapped sidebar that Chris wrote contained some valuable advice I'd like to reprint here: To avoid giving the wrong gift, slyly inquire about your recipient's current mobile-phone plan. If he or she is looking at an onerous cancellation fee, rethink your gift idea (or be prepared to subsidize the cost of switching). Also be sure that AT&T's monthly fee and two-year contract won't be an unwelcome imposition.
It's also worth noting that if you're nowhere near a brick-and-mortar Apple Store or not comfortable shopping at AT&T's online outlet, ubiquitous retailer Best Buy also offers the iPhone. And, if you're willing to both bide your time and put your trust in the rumor mill, you could be in a position to pick up an iPhone at Wal-Mart as early as next week.