After focusing on our favorite iPhone games, our look at the best the App Store has to offer continues with our picks for the top communication apps. The iPhone has e-mail and SMS features. But there's more than one way to stay in touch, as the following four apps prove.
Read more…
(Note that, like our Editors' Choice Awards, our picks for our favorite App Store programs is restricted to programs released by November 1, 2008.)
Most elegant Twitter client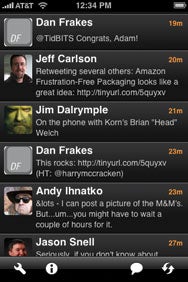 Twitterrific ( ) connects to the Twitter messaging service and lets you send tweets and displays incoming tweets from your friends. You can also share photos via the twitpic.com service. An embedded Web browser lets you tap on user names or hyperlinks and view the contents without having to switch out of the program and into Safari. The program's interface combines simplicity with solid functionality. A series of slide-out "hint" screens appear for new users, cleverly helping to teach you how the program works. Available for free as an ad-supported app, The Iconfactory also offers a $10 premium version. Twitterrific doesn't have the most features of any iPhone Twitter client, but its simple, elegant interface makes it the most usable and useful.—JASON SNELL
Read our review of Twitterrific; get more info on Twitterrific at the App Store.
Best location-aware Twitter client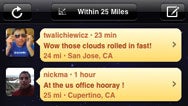 Twitterrific isn't the only good Twitter client available via the App Store—an attractive alternative is the free Twinkle ( ) from Tapulous. Although the nonexistent price tag is certainly appealing, what you'll really appreciate is Twinkle's Location capabilities. With a tap, you can view all tweets within one to several hundred miles around you—an invaluable feature for following local events, from wildfires to surf conditions.—CHRISTOPHER BREEN
Read our review of Twinkle; get more info on Twinkle at the App Store.
Best instant messenger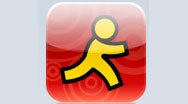 Instant messaging was one of the most wanted features for the original iPhone, and AOL's free AIM client was one of the first apps out of the gate. AIM ( ) gives you access to your full list of buddies and groups and allows you to carry on multiple conversations at the same time. You can set your status and away messages, read profiles, or even go invisible. While long chats on the iPhone's touch keyboard may be unwieldy, AIM is great when you need to quickly check a detail with a friend or colleague.—DAN MOREN
Read our review of AIM; get more info on AIM at the App Store.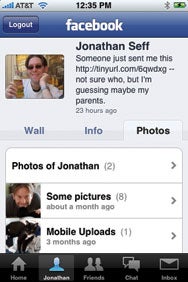 Best way to keep tabs on your friends
Facebook claims more than 100 million active users on its social-networking site, and I claim a tiny fraction of those as people I've reconnected with after many years. The Facebook iPhone app ( ) helps me stay connected with them, thanks to its well-designed interface and strong feature set. With the iPhone client, you can view your friends' latest news, status updates, and photos, as well as comment directly on a person's status. Facebook on the iPhone offers badge notifications when friends comment on your Wall or when you get friend requests—you can now even confirm or ignore requests from within the app itself. And your inbox contains all of your sent and received messages.—JONATHAN SEFF
Read our review of Facebook 2; get more info on Facebook at the App Store.