At a Glance
Expert's Rating
Pros
First software-only version of the application
Features robust multiuser work environment
Wide variety of third-party applications included
Modest hardware needs for software-only playback
Full-featured and updated effects handling
Hardware upgradeable
Less expensive than previous versions
Cons
More expensive than competing products
USB dongle required
Lack of RED camera codec support
No DVD tools for the Mac
HD monitoring requires proprietary hardware
Our Verdict
The release of Media Composer 3.0.5 marks a major metamorphosis for Avid Technology: With this version, the company has completely rebuilt its flagship video-editing software from the ground up for Apple's OS X 10.5 (Leopard) operating system.
Adding capabilities for the ever-growing tapeless camera market that now includes the SxS format cards used in Sony's EX series of cameras, expanded support for Panasonic's P2 AVC-Intra codecs, and the addition of support for JVC's 720p24 and 720p25 HDV formats, Avid has again stepped to the front of the line with the tapeless tools added in this release. This is the first version of Media Composer software that Avid has shipped that doesn't require proprietary hardware, something that was a past signature of Avid's professional product line.
Same interface, new capabilities
The software has been virtually rebuilt from the ground up, though one thing that has not changed is the look and feel of Avid's user interface. But underneath that familiar cover, Avid has answered many of its long-time critics—and some within its user community—who have been begging for updated support for the latest tapeless cameras and advanced codecs.
The wildly popular XDCam Ex and XDCamHD MPEG 4:2:2 models gain support via Sony's XDCam Transfer Tool. Avid has even posted a short video of its SxS card workflow on YouTube. Now, there's full support for 50Mbit XDcamHD workflows with the capability of handling offline editing of XDcamHD Proxy Video files directly in their original MPEG format. Import of Panasonic's AVC-Intra codec remains in Avid's own flavor of the MXF format, however. The most eagerly awaited addition is support for 24fps and 25fps workflows in 720pHDV, arriving long after such cameras were released on the market.
This release doesn't just offer native access to the majority of camera formats; there are also a number of adjustments that users will welcome. Included are enhanced controls for content dragged or dropped into a timeline, enhanced keyframing controls in the effects editor, and the ability to copy, paste, and even remove redundant keyframes from content already in your timeline.
Geared to the needs of editing pros, Media Composer always reminds me of the elements missing in Adobe Premiere Pro ( ) and Apple's Final Cut Pro ( ). In this case, it is Avid's superior timecode support and on-screen display with the new AVX version of the Timecode Generator plug-in. Avid has responded to the need for simultaneous viewing, monitoring, and output of multiple timecode tracks. The Timecode Generator plug-in allows up to three simultaneous fields of on-screen data that can include timecode, edgecode, source name, and sequence name, and even an onscreen notation field. The last is not quite as helpful as it sounds for day-to-day use, as the timecode data remains on screen for the entire duration of the playback of your clip or track, and is not editable. Yet this makes it an incredibly effective tool for visually watermarking your client preview and offline versions.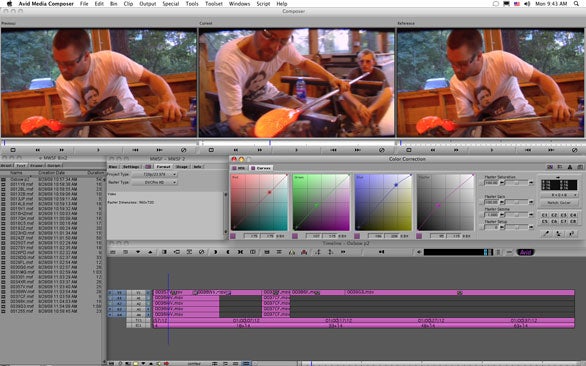 The SubCap Generator, a new AVX plug-in in this version, allows for the dynamic compositing of text and the coordinated graphics onscreen. Called open captioning because the content always remains visible to the viewer, it allows specifically for Avid DS and EBU N-19 standard caption file formats, greatly simplifying the process of creating and viewing alternative languages, translations, or graphics on screen. Avid's attention to the needs of professionals is exemplified by the new Sequence and Clip Summary, as output of individual clip and track specifics, timecode, color corrections and EFX information can now be saved as a simple text file.
In the box
The world of pro video, like any other specialty, requires a vast array of tools. At times, it can be the additional tools included that can make or break an application suite. Many of the third-party apps included are the best of their kind in the marketplace, while often some are Windows only. Included in the over 20 applications that ship with the Mac Version of Media Composer 3 are: Avid MediaLog for logging video information and metadata; Avid LogExchange, which handles information for film-to-videotape transfers; Avid FilmScribe, to handle change and cut lists required when finishing to a celluloid master; Avid EDL Master, used to transfer or translate edit data into varying industry types and formats; and Avid MetaSync Manager, a new tool designed for interactive object programming and metadata content creation on a Mac.
The previously stand-alone version of Avid FX, an application for titling, onscreen graphics, and effects, is also now included, and it's for the most part seamlessly integrated as a supplementary editing mode within the Media Composer software. Users will note that the application retains its legacy Boris RED interface and look, right down to the soccer ball and brick background images in the timeline on launch.
Third-party products
Unlike other NLE (non-linear editor) packages that bundle only their own applications, Avid prefers to choose from the best of the existing tools on the market, and round out that toolset from within when needed. Included in the Media Composer box are applications such as Smart Sound's Sonicfire Pro 4.5, with both Core Foundations and Core Sessions libraries for audio content creation; Sorenson Squeeze 5, for Internet and DVD compression; and Boris Continuum Complete 5, for advanced graphic effects and transitions.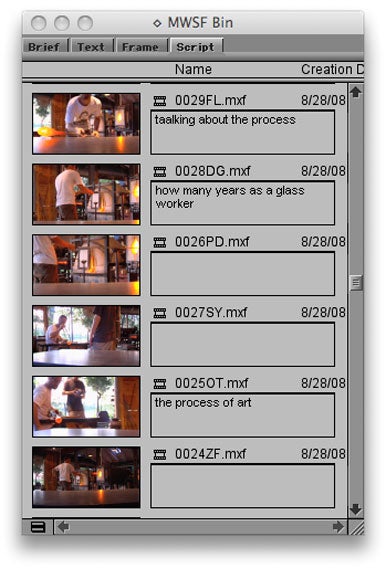 One sticking point for Mac users is the lack of DVD software for Mac. While Avid DVD is included with support for Blu-ray discs, it is somewhat limited even as a Windows-only install. In spite of that, Avid wisely hid an Automator script in the Goodies folder on the main installer disk that does an admirable job of preparing your Media Composer project for disc creation in DVD Studio Pro.
Pro vs. prosumer
Avid's tools are geared toward the large, multiuser post-production environments found in broadcast, episodic television, or commercial production. The software-only version I tested allowed seamless integration and transfer of my project and files in and out of large workgroup environments using both Avid's Unity and an Avid-approved EditShare storage network. With its software-only version, Avid has reopened the prospect of more pros and prosumers working with the suite. Freed from the hardware restrictions of previous Media Composer versions (and their industrial pricetag), this should result in a rise in alternate use from the existing customer base.
This version of Media Composer also signals the end of line for the existing Avid Adrenaline hardware line, as well as for the Xpress Pro and Xpress DV product lines: Avid's tech support for these products ends this year. The company's focus has always been on the professional editing marketplace, and this Media Composer release continues that tradition.
Macworld's buying advice
While not an earth-shattering upgrade, Avid Media Composer 3.0.5 is indeed a must-have if you or anyone in your facility work with the emerging HD formats popularized by card-based camera systems. Corporate, editorial, and prosumer users will love this upgrade's functionality, especially if they're working with JVC's 720pHDV, Panasonic's AVC-Intra codec, or Sony's EX cameras. Media Composer 3 allows users the same interface and working options on location that they've had in their edit bays, simplifying the workflow by maintaining a single user interface in both the desktop and the laptop versions.
[Gary Adcock is founder and creative director of Studio37 Ltd., a US-based consultancy focusing on emerging technology for the worldwide film and television industry.]
[EDITOR'S NOTE: This article was modified to clarify that version 3 is Media Composer's first software-only version.]