There's a big wide world out there. Fortunately, your iPhone can help you stay on top of things, courtesy of apps that keep you up to date on the latest news, help you connect to radio stations around the world, and let you take chunks of the World Wide Web with you wherever you go.
The App Store offers plenty of worthwhile news readers, radio apps, and other fonts of information. But in our opinion, six apps stood out. And they join the list of games, communication tools, and productivity boosters on our list of favorite iPhone apps from the past year.
Best news reader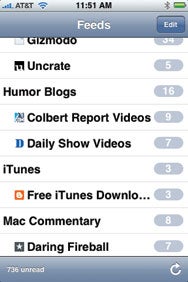 As a standalone news reader, the free iPhone version of NetNewsWire ( ) can't hold a candle to NewsGator Technologies's Mac version. But as an on-the-go article-filtering app, NetNewsWire shines. Whenever you've got some free time, you can quickly browse new RSS articles and "clip" the interesting ones for later reading. The next time you run NetNewsWire on your Mac, the read/unread status of each article, along with your clippings, are synced to your Mac, so you can pick up right where you left off.—DAN FRAKES
Read our review of NetNewsWire; get more info on NetNewsWire at the App Store.
Read more…
Best way to read Web articles at your leisure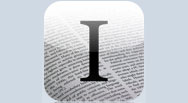 Allowing you to download articles from nearly any Web site to your mobile device, Instapaper Pro ( ) is a first-class reader with gewgaws and gizmos that meld readability with convenience. The $10 Pro version of Marco Arment's app features a nifty tilt screen feature that lets you scroll text without touching the screen. It also marks your place and lets you customize fonts and text sizes to your liking.—BEN BOYCHUK
Read our review of Instapaper Pro; get more info on Instapaper Pro at the App Store.
Best way to watch your net worth dwindle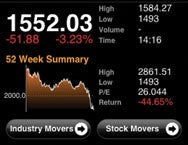 In today's roller-coaster economic times, it's good to keep an eye on the market—even if the news isn't good, better to have that data than be surprised by it. With Bloomberg ( ), a free app from the news agency, you can see market news, index values, charts of indexes and individual stocks over time, and the value of your portfolio. You can even drill down from a market index all the way to an individual company within that index, all with a few taps.—ROB GRIFFITHS
Read our review of Bloomberg; get more info on Bloomberg at the App Store.
Best way to know the score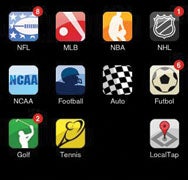 While there are many sports scoreboard apps for the iPhone, the free SportsTap ( ) from the developer of the same name stands out, thanks to its home screen. You'll find icons for 10 different sports with a red Mail-like count badge on each, indicating the number of new scores within that category since you last ran the program. A LocalTap icon shows results from within 25, 50, or 100 miles of your current location. You can mark favorite teams in each sport, and those results will move to the top of the results page—which is a very nice, minimal-scrolling-required, two-column format.—RG
Read our review of SportsTap; get more info on SportsTap from the App Store.
Best radio app, terrestrial division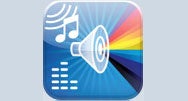 The wonder of WunderRadio ( ) is that it allows you to stream tens of thousands of terrestrial radio stations from across the globe to your iPhone or iPod touch. The $6 Weather Underground application works over EDGE, 3G, and Wi-Fi networks and can find local stations based on the location of your iPhone or iPod touch. In addition to radio broadcasts, it can play audio weather reports as well as feeds from emergency scanners.—CHRISTOPHER BREEN
Read our review of WunderRadio; get more info on WunderRadio at the App Store.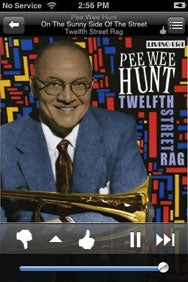 Best radio app, Internet division
Pandora Radio ( ) isn't the only Internet radio app for the iPhone, but it offers more surprises, selecting music from a 500,000-song library based on your preferences. Pandora Media's free app has a simple interface, effortless navigation, and a thumbs up/thumbs down button that helps determine how your station will evolve over time. Users can bookmark any song or artist, as well as purchase songs from the iTunes Store.—BB
Read our review of Pandora Radio; get more info on Pandora Radio at the App Store.