With the gold rush of games coming to the iPhone and iPod touch via the App Store, there are cases where the developers try to include every bell and whistle available to capture the new market. Then there are the games that know exactly what they're all about, the developers having created something simple and fun and forgoing the extras.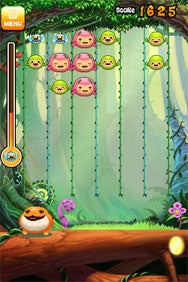 Take Critter Crunch, a perfect example of the latter and one of the best puzzle titles for the iPhone to date. A variation of the arcade classic Space Invaders, Starwave's Critter Crunch puts you in control a long-tongued, furry creature named Biggs who completes levels by fending off a descending horde assorted critters. He does this by grabbing them with his tongue and feeding the smaller ones to the larger ones, remove them from the board and racking up points.
Like Space Invaders, Critter Crunch picks up the pace after a few levels, pushing you to figure out how to and clear out the level as quickly as possible.
Read more…
Critter Crunch's bright, friendly graphics stand on par with anything you'd find on a handheld gaming console such as the Nintendo DS. But the sound really stands out—you'll hear distinct noises like Biggs' tongue extending, a critter being happily crunched, or a power-up being collected. The impressive audio adds to the fun of Critter Crunch.
While the standard Adventure game mode is interesting, it's the little things that make Critter Crunch interesting. Three additional game modes (Puzzle, Time Trial, and Survival) are interspersed throughout the standard game, and players will suddenly find themselves tasked with clearing out a puzzle within a given number of moves or some other challenge.
There's a polish to the game that's appreciated. For example, a simple set of options lets you turn the sound on and off. The beginning of new levels feature helpful tutorials. A well-designed background process does a good job of automatically saving a your level, allowing you to resume the game from where you left off, even if you need to take a phone call or perform some other iPhone function.
As the levels go by, Critter Crunch introduces new critters to clear, new power-ups to collect, and power-downs to avoid. You can also collect power foods— items which can be spat back at the critters to remove them. Though a puzzle game, the puzzle continuously changes, keeping you on your toes.
The developers put a lot of effort into this $5 game, making a bright, friendly, accessible, and fun offering. And if you're still not sure if the game is right for you, the App Store also offers a free lite version of Critter Crunch. It's worth checking out.
Critter Crunch is compatible with any iPhone or iPod touch running the iPhone 2.1 software update.
[Chris Barylick is a Macworld contributor who wouldn't know how to fight a descending horde of critters.]