The iPhone's potential as a game system was apparent from the moment Apple VP Scott Forstall stepped on stage during Apple's iPhone press event this past March and demonstrated a game running on the device to herald Apple's unveiling of the iPhone Software Developer Kit (SDK). But even those who were at that event have been amazed at the skyrocketing number of games available for the iPhone and iPod touch since the the App Store opened its doors this past summer.
So it's only fitting that this year, we expand our annual Game Hall of Fame with a new wing that recognizes the best in iPhone gaming. Sure, my fellow Macworld have already picked their favorite iPhone games of 2008, and the nine apps they selected are a diverse, worthy lot. But when it comes to securing a place within the mythical walls of the Game Hall of Fame in Pittsfield, Mass., there's only one vote that counts. And below, you'll mind my selections for the iPhone and iPod touch titles that helped define the past year in gaming.
But if you're a grizzled Mac gaming veteran who still views that new-fangled iPhone with suspicion, fear not—we've still found four traditional Mac games worthy of inclusion in the Game Hall of Fame. Why just four? Because that reflects where the Mac gaming market is at right now—if you want to see where the action is and where developers are pouring their time and resources, you need to check out the iPhone side of things.
Before we meet the 2008 class of inductees, please remember that like our Editors' Choice Awards, the eligibility period for these games is that they must have been released by the start of November. So if you don't see your favorite game on here, it's possible that it might have come later in the onslaught of releases.
Let's meet the Game Hall of Fame honorees, starting with the iPhone games.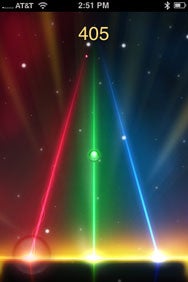 Best way to get your wrist and fingers cramped
Tap Tap Revolution was an early hit when it appeared for "jailbroken" iPhones prior to the introduction of the App Store. Tapulous built on the game's success by releasing it again once the App Store debuted, rebranded as Tap Tap Revenge ( ). Absolutely free to download and play, the game features a long list of songs and gameplay that's familiar to anyone who's spent a few minutes playing Guitar Hero, Rock Band or other similar music rhythm games—you tap colored balls as they descend to the bottom of the screen, all in time with music. If you hit the ball on the beat, you get points—the more balls you tap in sequence, the higher your score. (Read our review of Tap Tap Revenge.)
Best Mac retread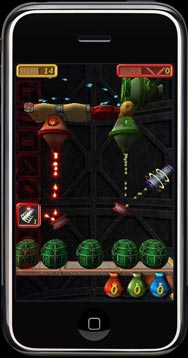 Pangea Software has had its best year ever, thanks to the iPhone. A Mac developer that had all but turned its back on Mac game making after years of diminishing sales, Pangea got a whole new lease on life by adapting its classic Mac titles for the iPhone and iPod touch. One of the first of these retreads—and still one of the best—is Enigmo ( ), a kinetic puzzle game that has you assemble apparatuses to make water, lava and oil move through mazes. The game features gorgeously detailed graphics, the ability to zoom in and out using pinching gestures, and time-based bonuses that emphasize both speed and accuracy. (Read our review of Enigmo.)
Best mix of creativity and gameplay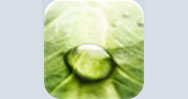 Aqua Forest ( ) is a puzzle game with a twist: Designed around a physics engine that models how gases, solids and liquids interact, the $8 game from Hudson features drawing tools that let you create your own puzzles. A quirky interface and less-than-stellar help mars the experience a bit, but once you get into it, you can spend hours doodling with Aqua Forest, and playing with the results of your creation. (Read our review of Aqua Forest.)
Best way to warm up for a Vegas weekend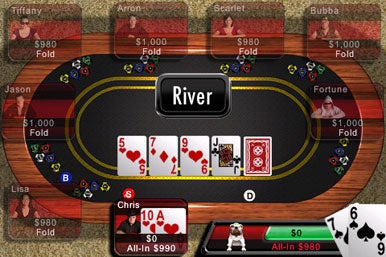 The only game on this list actually made by Apple, Texas Hold'em ( ) takes everything the company learned from its first effort with the iPod poker game and builds on it, using the iPhone to the best of its ability. This $5 game puts you in a Texas Hold'em casino poker game in a first person perspective, and features ten different locations each with progressively higher buy-ins. The game features detailed movement animations and graphics, lots of background noise and music, and a top-down view if you get tired of the first-person perspective. There's also a multiplayer mode that lets you play up to eight other Texas Hold'em fans over a Wi-Fi network. (Read our review of Texas Hold'em.)
Best update to an old classic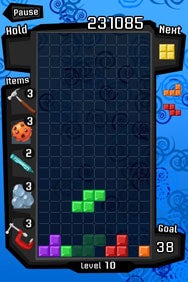 Though I admit that my first experience with this game was very rocky, EA did its best to update Tetris ( ) with improvements that resolved all of my problems, and in doing so created a stellar experience for iPhone users. While it would seem that after more than 20 years, everything you can do with the classic falling blocks puzzle game has been done, EA still managed to find some new twists with Tetris by incorporating touch-based gestures and shaking into the game which make it even more fun. That, combined with updated gameplay, makes Tetris for the iPhone a must-have, especially for classic game fans. (Read our review of Tetris.)
That's it for iPhone offerings. Let's look at our Mac-based game inductees…
Best sequel from a long-running franchise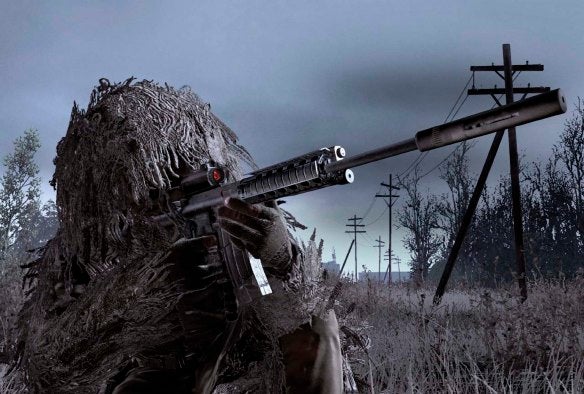 Typically, by the time there's a 4 in the title, a series has gotten pretty worn out. Not so with Call of Duty 4: Modern Warfare ( ), the first game in the stellar first-person shooter series to be set in the modern day. While previous installments on the Mac have been retro excursions to World War II, this is set squarely in a contemporary framework. You'll see duty as a British S.A.S. officer, a U.S. Marine, a military gunship operator, and a British sniper, while visiting locales in the Middle East and even Chernobyl. Factor in the engrossing, emotionally wrenching storylines that are a trademark of the Call of Duty series, and Aspyr Media's $55 offering adds up to one of the best games of the year. (Read our review of Call of Duty 4.)
Best online gaming experience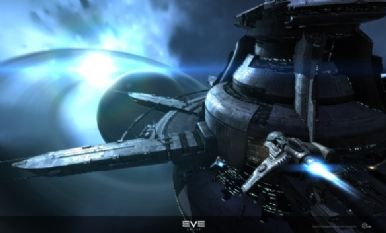 World of Warcraft isn't the only massively multiplayer online game in town. Eve Online ( ) is set thousands of years in the future, in a distant galaxy where pilots fly starships from star system to star system. Eve Online doesn't enforce a rigid mission or quest structure for its players; you can do whatever strikes your fancy, from mining asteroids to fighting other players in battles involving hundreds of ships. And because Eve Online is hosted on a "single-shard" server (one of the largest privately owned supercomputing clusters in Europe), tens of thousands of players can be online at the same time. CCP Games' online experience has suffered from some technical glitches. But it's still one of my favorite games of the year. (Read our review of EVE Online.)
Best way to fulfill your need for speed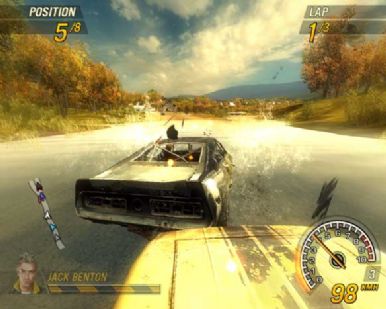 Virtual Programming's turn-based strategy games have always been a bit too niche-y for my taste. That changed in 2008 when it introduced a $40 Mac conversion of the auto-racing game FlatOut 2 ( ). The spiritual successor to games like Carmagaddeon, FlatOut 2 fills the tracks with other computer-controlled cars and destructible objects; you get points for the damage you do to other drivers and the environment. FlatOut 2 has been on the PC for a long time, but that doesn't alter the fact that this well-crafted Mac port is flat-out fun. (Read our review of FlatOut 2.)
Best way to party like a rock star
The Guitar Hero franchise has been a phenomenon among console gamers since it appeared in 2005. This year, thanks to Aspyr Media, it finally became available on the Mac. As with the rest of the Guitar Hero games, in the $80 Guitar Hero III: Legends of Rock ( ), you use a USB game controller shaped like an electric guitar to "play along" with colored notes that appear on screen. Succeed, and you garner endorsement deals, money, and access to bigger venues; fail, and you get booed off stage. It's one of a kind. (Read our review of Guitar Hero III.)
[When not curating the Game Hall of Fame, senior news editor Peter Cohen oversees Macworld's Game Room.]
Note: When you purchase something after clicking links in our articles, we may earn a small commission. Read our affiliate link policy for more details.