Presumably at least a few of you have gotten iTunes gift cards and gift certificates as part of your holiday spoils. Here are a few suggestions for iPhone and iPod touch games that I think are great deals right now, because they're available at sale prices for a limited time.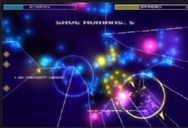 – Dropship from Ngmoco. An arcade shooter exclusive to the iPhone and iPod touch, this game includes a full 18-level campaign mode and downloadable levels. The game employs "dual-analog" style controls that use the touchscreen like the thumbsticks on a PS2 or PS3 controller, and it works — phenomenally well. That, combined with trippy, colorful graphics make this a must-have for 99 cents (on sale until the end of December, then it's $1.99).
– HydroTilt uses the iPhone and iPod touch's accelerometer to manage moving a bead of water through a maze of suspended platforms and other obstructions. You can change the water from liquid to solid to gas to solve puzzles along the way. Another game that's being sold at a low price right now — $2.99 until January 5th, 2009, when it will be $4.99.
– Frenzic. If you somehow missed this tremendously addictive puzzle game on your Mac, now's the time to pick it up for your iPhone or iPod touch. The game is addictive as Tetris and maddening, but really fun. It's selling for 60 percent off, only $1.99, available until the end of the holiday season. Which is any day now. So hurry.
– Diner Dash, which set off a wave of "task management" games — is available for the iPhone and iPod touch. You control Flo as she manages the actions at a diner, serving patrons, cleaning up after them and collecting the cash. PlayFirst is selling the game at a discount, $4.99, through January 5th, so it behooves you to pick it up now.
– Zombie Attack is a tower defense game, and as tower defense games go, it's pretty by the book. But what makes it particularly funny is that instead of orcs and ogres, you're defending yourself from waves of zombies, using flame throwers and cannons and other vicious weapons. The game uses touch and tilt controls, too. Best of all, it's only 99 cents until January 15, 2009.
– WaveBlazer is a boat racing game akin to one of my favorites from the Sega Dreamcast era, Hydro Thunder. The game also features an online multiplayer mode that lets you race against other players from anywhere around the world. It's on sale for a limited time for $1.99.