Apple has recently posted several articles that offer advice on how to prevent crashes and freezes related to the Mac OS X 10.5.6 update. The fixes all involve deleting files, most often heretofore little-known system files.
Prevent a Configuring Installation error
When installing an OS X update, the Installer may stall or freeze at the stage where a "Configuring Installation…" message appears. The good news is that this bug has been eradicated in Mac OS X 10.5.6. The only problem is that you may still see this error while attempting to install the very 10.5.6 update that fixes it! If so, the solution is to go to the /Library/Updates folder and delete its contents.
I am not certain (and Apple does not explain in the relevant article) exactly why deleting this folder's contents eliminates the Configuring Installation error. But after a bit of investigation, I at least know a bit about the overall function of this folder.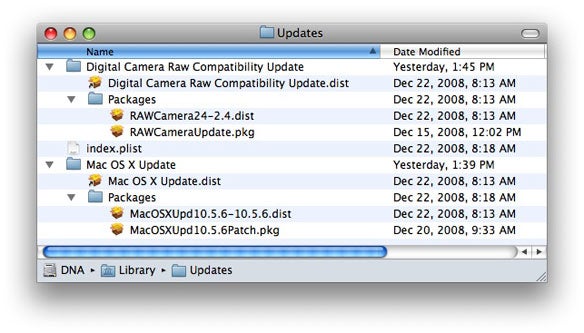 Most often, all you will find in the Updates folder is a single index.plist file. However, using Software Update, if you select to download and install an update that requires a restart, you will eventually get a message that says "The new software requires that you restart your computer." You can choose either the Restart or Not Now button. If you select Not Now, the update's package is temporarily stored in the Updates folder (as shown above).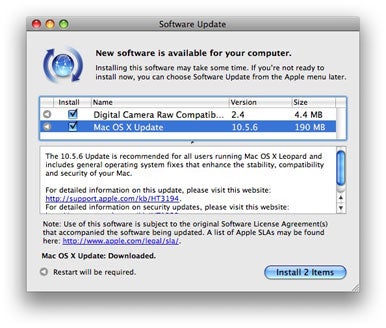 The index.plist file maintains a list of these updates that are waiting to be installed after a logout/restart. In such instances, the update will also be listed as "Downloaded" in Software Update (as seen near the bottom of the screenshot on the right).
Fix a blue screen crash
Apple notes that, especially after using Software Update, you may get a blue screen crash at startup. If so, a likely fix is to restart with a Safe Boot (by holding down the Shift key down at startup). New in Mac OS X 10.5.6, a Safe Boot results in the deletion of the "dynamic loader shared cache" in the /var/db/dyld directory. A corrupt cache here turns out to be one cause of a blue screen crash. Restarting normally after a Safe Boot creates a new copy of the deleted cache, with the result that the crash should no longer occur.
Fix Mail crashes
According to Apple, the Mac OS X 10.5.6 Update "addresses an issue that could prevent Mail from quitting." In an ironic twist, Apple subsequently reported that Mail may actually quit unexpectedly after installing 10.5.6. This can happen if the Mail application was not properly updated.
If so, the solution is to run Mail Update 1.0. If and only if your copy of Mail needs this update, the update file should appear in Software Update. If unexpected quits persist even with an apparently properly installed copy of Mail, Apple recommends a visit to the ~/Library/Mail/Bundles folder. If you find third-party Mail plugins here (such as OMIC and GPGMail), these may be incompatible with the latest version of Mail. Check to see if there are newer versions of the plug-ins available. Otherwise, simply delete the plug-ins. This should eliminate the crashes.
Two follow-ups
• Adobe printing errors fixed in 10.5.6: Apple's list of what's fixed in Mac OS X 10.5.6 claims that the update "improves printing for the Adobe CS3 application suite." As usual, Apple's documentation offers little in the way of specifics. However, I am guessing that this addresses the printing problem described in a previous Bugs & Fixes entry.
• NYTimes app updated: I previously crowned the NYTimes app with the dubious honor of all-time iPhone crash champion. A new 1.4 version is now available at the App Store. It promises "improved stability," including fixing a crash that occurs when pressing the previous or next button at the last article. I've used the updated app for awhile and have not had a crash yet. I'm keeping my fingers crossed.