It's New Year's Eve. The clock is about to strike midnight, the big ball in Times Square is perilously close to touching down, and the opening strains of Auld Lang Syne are about to fill the air. And you've got no way to properly welcome in the new year.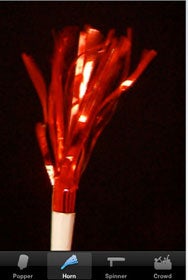 That's where New Years Party comes in. The $1 app from Toejam Software lets you make assorted festive noises via your iPhone or iPod touch— a popper, a party horn, a party spinner, and a crowd cheering "Happy New Year." An app of limited utility, sure, but it seems to have a longer shelf life than that cheap noisemaker from the local party supply store that will just wind up at the bottom of some landfill come January 1.
Other New Year's Eve-themed apps in the App Store include New Years Ball Drop , a $1 app from Papaaya that counts down to the end of the year, and New Years Eve Webcam , iDelux's $1 app that promises to let you watch 2009 dawn from 15 webcams stationed around the world.
And when the New Year arrives, get a head start on living up to some of those resolutions with Diet Tracker . The $3 app from Michael Thomason helps you track what you eat by storing nutritional for more than 7,000 common foods. Use the app to keep a history of your meals, so you'll know what you ate and when.
Other apps of interest that were recently added or updated at the App Store include:
Read more…
Vinnie Jones Wake Up Call , from Branded Research: Start the day with this $2 alarm clock app which features the Wimbledon footballer-turned-actor spouting off movie lines and one-liners to jar you out of your slumbers.
TipEven Tip Calculator , from Ed Crookshanks: In addition to calculating a standard tip amount, the $1 app also rounds up to the next even bill amount and the next even tip amount.
Car Care , from KB Productions: The 1.20 update to the gas mileage tracker adds customizable service types, custom reminders, custom fuel octanes, improved data entry methods, and support for international currency.
Got an app you've just released to the App Store? Drop us a line.