Wikipedia is the great argument settler. I can't tell you how many times my friends and I have had heated debates over some piece of meaningless trivia, only to end it with, "We'll see who Wikipedia thinks is right."
There is a whole class of applications in the App Store that put Wikipedia in your pocket and on your iPhone or iPod touch. In this Wiki apps roundup—the first of two I'll be writing for iPhone Central—I'll take a look at three paid Wikipedia clients for the iPhone: WikiPDA, Wikipanion Plus, and Look Up: Encyclopedia for Your Pocket.
Read more…
You get what you pay for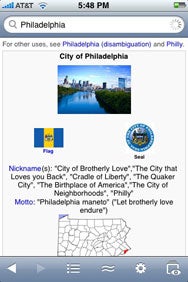 Right off the bat you'll notice that, at $5, Robert Chin's Wikipanion Plus costs more than the other two apps. (Note that there's also a free version of Wikipanion available in the App Store.) Why such a big difference in price? Wikipanion Plus has a couple of great features that set it apart from the less expensive apps: queue mode and search within a page.
No doubt you've found yourself in a situation similar to this: you think to yourself, "I wonder what the average rain fall in Lima, Peru is." A quick Wikipedia search tells you that Lima gets about 1 to 6 cm of rainfall a year. Several hours later your innocent meteorological query has cost you a few hours and you've somehow ended up on Kevin Kline's Wikipedia page (did you know his middle name is Delaney?). All of this idle wandering on Wikipedia isn't exactly friendly when you have limited bandwidth (say you're on your iPhone but not within the range of a Wi-Fi network), and that's where Wikipanion Plus' Queue mode shines.
Tapping on a link with Queue mode enabled doesn't take you to the page, instead it pops up an alert informing you the linked page has been added to your queue. You can add more pages to your queue with a tap, or visit the link directly by tapping and holding down on the link. (If you are not in Queue mode, tapping and holding adds a link to the queue instead of visiting it directly.) Once links have been added to your queue you have two options: you can visit the links in any order, or download all the linked pages for offline viewing (great for plane rides). You can also set Wikipanion Plus to automatically download and save the queued pages in the background as you finish reading up on particle accelerators.
Another feature that sets Wikipanion Plus apart is the ability to search within a page, which has long been a browser standard. Tap the gear icon and a menu slides open with a few buttons on it, the top most being Search in Page. Tap it, enter your search terms, and after a little crunching your search terms are highlighted in yellow.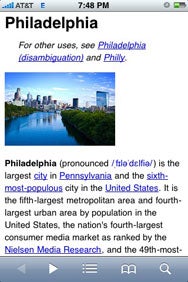 The $3 Look Up from Sven Schramm follows the same path as Wikipanion Plus when it comes to displaying wiki entries, though at a slightly cheaper price. The entire article is displayed, which is easier to use. But as I pointed out earlier, it also means larger file sizes for download. Look Up also adds a dedicated button for listing a table of contents for the article you are currently reading so you can skip to different sections easily. Look Up also boosts autocompletion for search results which I found to work a little faster than the same feature in Wikipanion Plus.
Cheap doesn't mean bad
At $1, NextAroundYou's WikiPDA is the cheapest of the lot, so it makes sense that it doesn't have as many features as either of its pricier competitors. It doesn't do much more than allow you to search Wikipedia from your iPhone, but in a slightly different way than the previous two apps.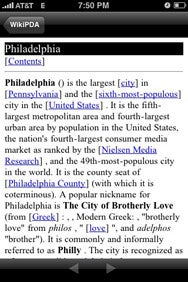 WikiPDA concentrates on making load times very fast by using mobile-friendly formatted Wiki pages. (I particularly appreciated this when using the app via EDGE.) WikiPDA consistently loaded pages faster than both Wikipanion Plus and Look Up, which present more traditional page results. Speedy load times are accomplished partly by paginating each article, which means it takes more effort to read a long article on WikiPDA. Other than that, its only features are a history of the pages you visited and multilingual support. (All three apps offer the same language support as Wikipedia itself.)
Which Wiki-ware wins?
Wikipanion Plus is the most feature-rich and best-designed Wiki search app of the bunch; it is also the most expensive by a large margin. If you find yourself constantly using Wikipedia on your iPhone, then Wikipanion Plus is the app for you. If, however, you only turn Wikipedia occasionally, want the answer quickly (perhaps to settle bar bets), and don't care about frills in the least, I would suggest WikiPDA. If you fall somewhere in the middle, as I suspect most people do, Look Up: Encyclopedia for Your Pocket is a great compromise between feature set and design.
All three apps are compatible with any iPhone or iPod touch running the iPhone 2.x software update.
[Scott McNulty is a senior contributor for MacUser and blogs at blankbaby.]