One of the more impressive demos I saw at last January's Macworld Expo involved Intuit's overhaul of Quicken. It's been a good long while since Intuit last updated its personal finance management app— more than two years as a matter of fact—and the app Intuit demoed at that January 2008 Expo was supposed to end the update drought. It would feature an entirely new look, an Intel-native architecture, many Leopard-inspired features, and a brand new name—Quicken Financial Life for Mac. And it was all slated to appear, Intuit told me at the time, in the fall of 2008.
You have doubtlessly noticed by now that the fall has come and gone with 2008 about to exit stage left itself, and that Quicken Financial Life for Mac has yet to make its big debut.
Intuit figured its customers had made that same observation, so it dropped them an e-mail which reader Walt Basil was kind enough to pass along to us, that confirmed Quicken Financial Life for Mac was going to be just a little bit late. According to the letter:
We expect to release Quicken Financial Life for Mac in summer 2009. If you have an immediate need for a Quicken product for the Mac, we would encourage you to check out our current Mac offering, Quicken for Mac 2007.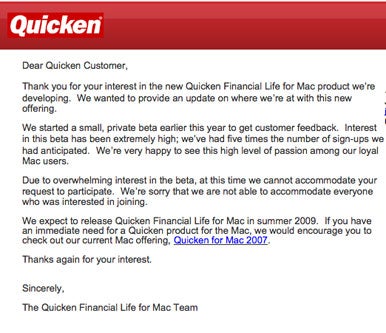 Yes, that's summer of 2009, or if you're doing the math in your head, about nine months after the initially promised release date. An Intuit spokeswoman I talked to confirmed the information in the e-mail and noted that the release of the product has been delayed twice from what Intuit has since called an "aggressive" release schedule. The bottom line, I'm told, is that Intuit felt the program wasn't ready to meet the demands of Mac users.
That's the bad news. The good news is that interest in the revamped version of Quicken appears to be quite high. The e-mail from Intuit to its Mac customers notes that the company has received five times the number of sign-ups for the private beta of Quicken Financial Life than it had expected. "We're happy to see this high level of passion among our loyal Mac users," the e-mail notes.
News of the delay is bound to irritate Mac users who've been waiting for a new version of Quicken. Then again, rewriting an aging app from the ground up is not an insignificant project. If Intuit delivers the goods next summer, then the guess here is that any grumbling over this latest delay will be long forgotten. In the meantime, here's hoping that Intuit will have more to say about its efforts to overhaul Quicken at next week's Macworld Expo.