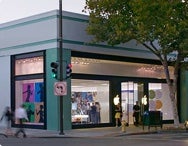 'Tis the season for breaking and entering. Following in the tradition of Santa Claus—the world's greatest cat burglar—a pair of men appear to be robbing Apple stores in the Silicon Valley area. The San Jose Mercury News reports that two thefts occurred last Sunday morning: one at the University Ave. store in Palo Alto, and another at the Los Gatos store about half an hour away.
Though the thieves made off with around $10,000 of equipment from the Palo Alto Apple Store, their modus operandi lacked the trademark elegance of the devices they pilfered: at around 4AM, they smashed the glass front door, grabbed six laptops and two iPhones, and zoomed off in what police believe was a Chevy Caprice or Impala (see, some Mac users do drive American). An hour later, a similar heist took place at the Los Gatos store.
The thieves are still at large at present, no doubt enjoying their spoils. Just wait until they try to register those suckers for AppleCare, though: beware the be-turtlenecked death squads, for their justice is swift and fierce.