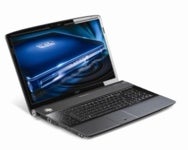 The problem with computer chips? You can't run just one, these days. Seems like everything's got multiple chips or dual cores—it's enough to make your head spin. The current king of the heap for the Mac is, naturally, the Mac Pro, boasting your choice of one or two quad-core Intel Xeon chips.
And, as legally obligated by that Moore fellow, processor companies continue to release new chips like clockwork (Get it? Because processors have clock spe—oh, never mind). Intel's newest line, quietly unveiled this week, features five new mobile processors, including one quad-core model. In fact, PC maker Acer has already gone ahead and released their first notebook with the new Intel Core 2 Quad Q9000, running at 2.0GHz (pictured). With an 18.4-inch screen, the $1,799 Acer Aspire 8930G-7665—and won't that be on the tip of the tongue of every kid this year—is classed as a gaming rig and desktop replacement.
Among the other chips in Intel's new mobile line are the 2.93GHz T9800, the 2.66GHz P9600 Core 2 Duo, the 2.66GHz T9550, and the 2.53GHz P8700. The chips range in price from $241 to $530.
Intel is, of course, Apple's exclusive chip supplier, so there's a pretty good chance that some of these powerhouses will make it into Apple's portable line before too long. With its four cores, it seems likely that the Q9000 would be destined for the 17-inch MacBook Pro, but the other chips of the line could be candidates for the rest of the MacBook series as 2009 rolls around.